DirectOut has appointed tm stagetec systems as its new distributor, offering the entire DirectOut product portfolio to the Australia market.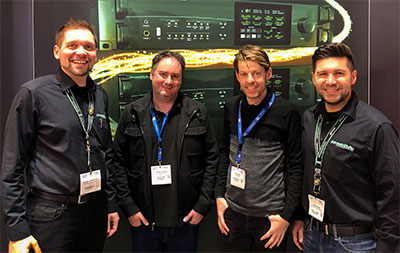 Founded in 2011 and based in Sydney, tm stagetec systems specialises in high-end audio, video, PA and intercom for government and enterprise, and is also involved in product research, development and manufacture. The company mission of bringing technology together fits perfectly with the DirectOut business ethos, and focus on producing technology that provides workable solutions for the demands of the pro audio industry.
With a diverse product portfolio, tm stagetec systems offers the opportunity to introduce DirectOut products to a new group of clients in a market where the brand of the German manufacturer has been well-established for the last eight years. The company's team of highly skilled engineers, not only in the field of transmission via IP, will provide qualified and professional support to its customers.
'DirectOut is a perfect fit for us,' asserts tm stagetec systems MD, Treva Head. 'Both the philosophy of the products and the diverse range will help tm stagetec systems better serve our customers in both broadcast and pro audio markets. With the suite of Audio-over-IP solutions and the intuitive globcon software, DirectOut provides tools to solve many customers' problems. We are excited to represent DirectOut and further build its reputation here.'
'We are fully convinced that tm stagetec systems is the perfect distribution partner for us in Australia,' says DirectOut Business Developer, Lorenzo Sassi.The company has a strong relation to and understanding of the broadcast industry. At the same time, it is a well-established distributor in the live and installation market. With outstanding experience and our range of products, we will be able to offer highly professional solutions to the Australian market.'