The new Terrain Gardens at Devon Yard has quickly emerged as a prime location for upmarket weddings, parties and corporate events in the Main Line suburbs west of Philadelphia. The setting provides a lavish backdrop for special occasions year-round, with locally-inspired menus, signature cocktails and hand-selected wines complemented by a virtually invisible Meyer Sound IntelligentDC loudspeaker system.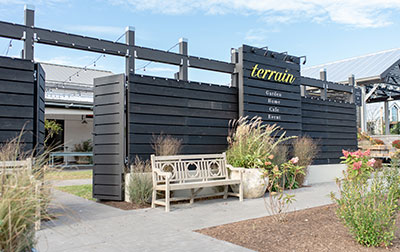 Terrain Gardens includes three distinctive event spaces – the Reception Room, a combination of rustic charm and modern amenities available for celebrations year-round; the Garden Porch a weather-protected space overlooking the gardens; and the Ceremony Garden, a secluded garden hideaway. Each space has its own discreet, colour-matched Meyer Sound system, with each system functioning either independently or combined into one system using a Q-Sys network with iPad touchscreen control.
'When I was conceptualising with our design team on how to differentiate what we could offer, we agreed that we needed to look at the sound system in terms of both sonic performance and visual aesthetics,' recalls Senior Sales Manager, Brianna Alcorn. 'At our other location, bands and DJs would bring in large, clunky equipment with the hassles of loading in and out, and with cords taped to the floor. We knew that for a premium event space we needed to avoid all of that. With the Meyer Sound system we have all the power and clarity we needed, but the loudspeakers are hardly noticeable. The main takeaway is that the sound system has proven to be a strong selling point for our venue.'
'The clarity of the spoken word, which is crucial for wedding ceremonies, is just incredible,' adds Director of Events, Emily Smith, responsible for day-to-day operations. 'With PA systems I've used in the past you would get this artificial 'microphone' quality, where with the Meyer Sound system it just sounds like a natural speaking voice carrying easily through the space.'
The system in the Reception Room comprises four UPJ-1XP and eight UPJunior-XP full-range loudspeakers plus two UMS-SM-XP subwoofers. This system can be instantly configured for placement of the sound origin point along any of the four walls. The covered Garden Porch uses six MM-4XP miniature loudspeakers while out in the Ceremony Garden six weather-protected UP-4XP loudspeakers disappear into the fence posts behind them. Design and installation was DBS Audio Systems, under the direction of company President David Brotman.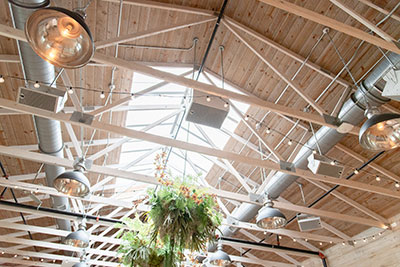 All 26 loudspeakers employ Meyer Sound's IntelligentDC technology, which combines the advantages of self-powered loudspeakers with the installation ease of distributed low-voltage systems: 'It's very easy to set up and adjust during the event using our iPads and/or iPhone,' Smith says. 'For events with layered programming, it's simple to toggle between one orientation for speeches back to a full room performance when the band is ready to kick in.'
Visiting bands have been similarly appreciative: 'The musicians and sound techs we work with have commented on how easy it is to remote into the system and how refreshing it is to come into the space without lugging equipment across the parking lot,' she adds.
And when the musical celebration kicks into high gear, nobody is left out, according to Alcorn: 'The speakers outside literally disappear into the woodwork, but you experience the same consistent quality as you hear indoors. We can really get the party started when everything is going at once.'
For Brotman, who has been working with terrain's parent corporation for more than 15 years, a Meyer Sound solution was the obvious choice. 'In a high-end installation like this there's no room for error,' he says. 'With six-figure weddings and prestigious corporate events you can't have excuses. And for the 27 years we've been using Meyer Sound products, there's never a doubt that it will turn out perfectly. It's peace of mind for me.'
Terrain Gardens at Devon yard is the second event venue for terrain, which currently operates seven terrain retail locations and five Terrain Cafe locations nationwide. Terrain is a division of URBN, also the parent company of Urban Outfitters, Anthropologie, Free People, BHLDN, Amis and Pizzeria Vetri.
More: www.meyersound.com