The renovation of California's Computer History Museum has seen its audio system completely revised, including the installation of BSS Audio Soundweb London signal processors and networking equipment.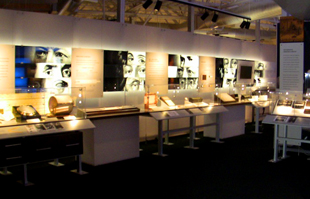 The two-year, US$19m project was handled by system design company Bowen Technovation. 'We chose BSS Audio because we needed a system that could accommodate the signal distribution, processing and control needs of a large, complex networked audio installation,' says Bowen Technovation President, Jeff Bowen, whose company specialises in audio/video, lighting, control and production solutions. The Museum's BSS Audio equipment includes the Blu-160 signal processor, Blu-120 I/O expander and Blu-BOB2 (Break-Out Box) output expander. Each of these components feature the Soundweb London digital audio bus, which can carry up to 256 channels of digital audio over standard Cat5e cable. The entire audio system is networked using Harman's HiQnet protocol.
'The exhibit space has close to 100 video displays with sound, as well as four theatres,' Bowen explains. 'Because of the long distances involved, extra care needed to be taken in the system design to ensure that signals from the control rooms reached their intended devices without loss of quality or dependability. In addition, the exhibit space has an open design and achieving a good audio balance was a challenge.
'Tuning each of the 100-plus audio systems took two days. The exhibits are very 'live' acoustically and with so many audio systems in operation at the same time, I had to be creative in differentiating the different sonic spaces with the use of frequency filtering and volume level adjustments. For example, in the seven-screen Exit Theater the room had a peak around 100Hz to 200Hz that was bleeding into the adjacent exhibits. By using the Blu-160 to notch very specific frequencies out of the system we greatly reduced the resonant bleed. The Soundweb London software and its straightforward user interface greatly facilitated the process – especially considering we used extensive processing on every audio channel in the place.'
Located in the heart of Silicon Valley, the museum housesone of the largest international collections of computing artifacts in the world, including hardware, photographs, documents, software and film.
'We created custom control pages for the routing and management of all of the more than 100 audio channels,' says Bowen. 'The ease of using the HiQnet London Architect configuration pages and their drag-and-drop functionality allowed us to provide this heavily customized system. In particular, the stereo processing objects made my work in tuning the system much easier than if we had used certain other audio processors.
'We even tied the BSS Audio network in with custom motion sensors that allow the volume in the exhibits to automatically reduce in level when no visitors are present, and ramp up the volume when someone walks into the exhibit.'