Set in Sungnam City, in the Suburbs of Seoul, the Good Shepherd Methodist Church has recently completed an extensive upgrade of its main FOH loudspeaker system.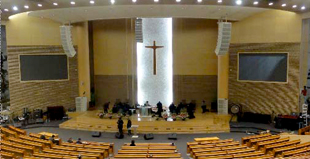 The church has extended its Martin Audio installation, adding more elements to its W8L Longbow and Blackline line array systems. Installed by Martin Audio's Korean distributor Inter-M, the additions include two W8LCD 12-inch downfills for the main LR system and an W8LMD 2x 8-inch downfill for the centre, an H3 three-way bi-amplified trapezoid Hybrid cabinet and an OmniLine array.
The full system also uses C4.8 and C6.8 ceiling loudspeakers, with MA4.2, MA2.8, MA1.6 and MA1.3 power amplifiers, controlled by a DX1 loudspeaker management system.
Inter-M also handled the system tuning.