Located within the IQ Beats music production house in Seattle, Washington, is the personal studio of former Paramount Studios staff engineer-turned recording and mixing engineer Alek Edmonds. The latest equipment addition to the studio is a pair of KK audio labs DS-8 eight-inch, two-way powered audio monitors.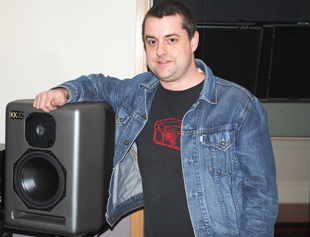 Edmonds is a long-time fan of studio monitor designs by KK audio labs founder Keith R Klawitter: 'Compared to the other monitors that I tested, the DS-8 delivers a more natural sound,' says Edmonds. 'These speakers combine the best elements of Klawitter's previous designs. Once I started mixing on them, everything that came back was true,' he added.
Edmonds typically alternates between two pairs of monitors while working: 'The DS-8s are not fatiguing, so I can mix on them for a long time,' he says. 'I can mix on them for eight hours and my ears aren't as beat up as when I use other speakers.'
He also notes that the KK audio labs monitors are consistently accurate regardless of volume levels: 'I've noticed that with some powered monitors, at low levels they don't really hold up. You have to get them in that middle level range before you hear them do their thing. But I like the DS-8s, because you can still mix at a low level – and if you turn them up they're still true.'
As a staff engineer at Paramount Recording in Los Angeles for five years, Edmonds worked with artists including: Snoop Dog, Mary J Blige, Avril Lavigne, the Steve Miller Band, Devo, Cobra Starship, and Grammy-nominated Ryan Leslie. Since relocating to Seattle in August 2010, his focus has been on rock bands, and he is working with up-and-coming acts Tomten, Slender Means and the Small Hours.
More: www.kkaudiolabs.com