Drawing their 2010 tour to a close with a series of UK arena dates to promote their latest album,
Only Revolutions
, Biffy Clyro put in sets in Aberdeen, Glasgow, Hull, Nottingham, Plymouth, Manchester and London's Wembley Arena.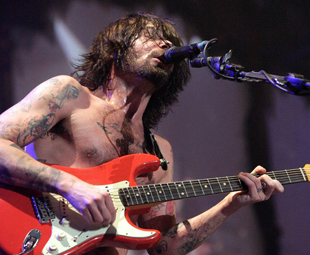 The three-piece band has used a collection of Sennheiser mics and monitors throughout – wired e945 microphones on Simon Neil's lead vocals and James Johnston's backing vocals, e901 on kick drum, e904s on toms and woodblock, e905s on snare top/bottom and e906s on guitars. All band members are on in-ear monitors, Sennheiser ew 300s being the systems of choice.
'The band has owned and used Sennheiser equipment for several years,' says front-of-house engineer Jonny Lucas. 'Personally, I've been using Sennheiser right from the first recording projects at I did at college.'
'I've been using Sennheiser products as long as I've worked as a monitor engineer,' adds monitor man Dan Speed. 'I particularly like using them because they require very little EQ to achieve a good natural sound. Although the band owned them, the in-ear systems saw comparatively little use until the arena tour. Here the gear really came into its own – playing on a larger stage, and the thrust out to a B stage in front of the PA, meant IEMs for all of the band were a must.'
The band had enough of their own Sennheiser mics to cover the normal 30-input setup, but the addition of the B stage meant that there was an extra drum kit, keyboards and more vocals to take into account. 'Production company Skan PA Hire filled a few holes for us, and Mark Saunders at Sennheiser kindly loaned us the B-Stage mics,' Lucas says.
Although only three strong, it doesn't mean that a Biffy Clyro gig isn't a demanding environment. 'The Biffy stage is an intense place and the equipment we use needs to be able to keep up,' Lucas says. 'I've found Sennheiser's gear to be sturdy enough for the job night after night in sweaty clubs and on dirty festival stages, as well as in the more sterile environment of arenas.
'The e901 sounds great and is very practical/ruggedly designed. I like the integrated pre, allowing XLR connection, as opposed to the alternatives. I also use it in a Cajon (box-shaped percussion instrument) when we do acoustic sessions.'
'The feedback rejection coupled with the sound quality of the e945 is superb,' adds Speed. 'In addition, until the band moved to IEMs the stage was incredibly loud. My job was to get the vocals louder than the wall of guitar and the e945 made it a lot easier to achieve.'
Biffy Clyro won Best Live Band at the NME Awards is in the middle of a multi-date headline tour of the US and Canada, which featured headline shows in New York, Los Angeles and Toronto, and will be appearing at the Teenage Cancer Trust Benefit at London's Royal Albert Hall at the end of March.
More: www.sennheiser.co.uk