Occupying the site of the former Rhein-Main-Hallen, the new RheinMain CongressCenter (RMCC) in the heart of Wiesbaden is multifunctional venue for events including conferences, exhibitions or trade fairs, major cultural or social events, live concerts or other stage shows. Salzbrenner media equipped the building – that will accommodate up to 12,500 people – with all of its media and information technology. During the planning phase, emphasis was placed on the latest technologies, flexible space planning and high-quality equipment.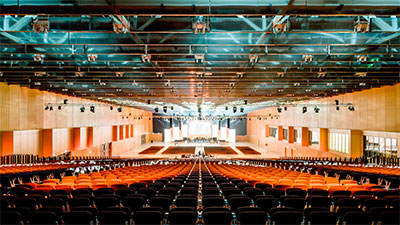 For the media technology and the information systems/digital signage, the Wiesbaden trade fair, congress and tourism holding company TriWiCon (a subsidiary of federal state capital Wiesbaden) selected Salzbrenner media on the strength of its experience with digital signage systems and competitive cost-benefit ratio of the systems installed, among other reasons.
The specialists from Salzbrenner media equipped the two multifunctional exhibition and event halls, the four conference halls and the conference rooms with central fibre-optic distribution technology for video (Extron), audio distribution via network (QSC), media control via central and decentralised units and wireless microphones via UHF and DECT (Shure). The commission also included five independent control rooms for the terrace rooms, 37 Panasonic projectors with outputs from 4,800 to 20,000lm, loudspeakers from Fohhn Audio for the terrace rooms and ceiling-mounted loudspeakers and sound panels from Tannoy for the conference rooms and small halls. The technicians also set up the network for the media technology components and installed the interfaces with KNX and the house network (Aruba).
Salzbrenner media executed the contract from planning through installation to service provision.
'While the tight time schedule meant that events were already taking place during the construction phase, the project's challenges were setting up the interfaces with other systems, creating a structured network configuration and the extensive task of commissioning the digital signage system,' says Salzbrenner media Project Manager, Kay Rothe. 'Another interesting aspect was the high degree of freedom regarding the individual media control units, which also made the project exciting for us from a technological perspective.'
More: www.salzbrenner.com