'I wish I'd tried the Pro6 sooner,' says FOH engineer Greg Bess, just having completed a string of UK dates that mark the rising R&B star Jason Derulo's debut world tour.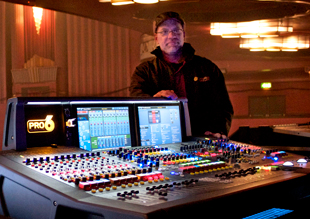 Bess is a long term Midas console user, with more than 30 years spent working with the likes of Slayer, Simply Red and all points in between. 'I've tried just about every digital desk out there and always ended up going back to my trusty Midas XL4, ' he says. 'But the Pro6 is different. It absolutely clears the bar in meeting the Midas standard of audio quality and accuracy.'
Having first used a Pro6 with The Offspring, a band he has mixed for 14 years, Bess had no hesitation in specifying the console for Derulo's critical first headlining tour. 'Midas started out with audio as the cornerstone and followed through with ergonomics and solid construction,' he says. 'Everything is so accessible, my hands rarely leave the mix surface. I can use the KVM switches to show laptop video, and the Pro6 has the only screens I've used that can be seen clearly in full daylight.'
Bess keeps the DL371 audio system engine and DL351 I/O box racked on stage, while the control surface at FOH is augmented by an extra DL451, a compact 3U-high box that Bess uses for the extra I/O slots. Connectivity is quick and easy.
He uses a fresh scene for each song in Derulo's set list, then uses POP(ulation) Groups to keep all critical channels to hand. All instrumentation and vocals are kept on the primary fader section, with effects returns always available on Area B. In addition to the internal signal and processing effects, he is able to incorporate some of his analogue favourites, secure in the knowledge that the system's latency compensation eliminates any danger of image smear. He also uses the AES cards to add outboard digital effects, and to interface directly with PA processing. 'The Midas clock works great as the master source for both,' he reports.
'As it turns out, managing audio in the digital domain can be incredibly convenient,' says Bess. 'Since I am from the analogue world, using the Pro6 came naturally to me; everything just made sense. Mixing digitally with the Midas front end is a real pleasure; they got it right.'
More: www.midasconsoles.com