House music producer and Chris Budd delivered the music for the coming ABB FIA Formula-E season, began in Ad Diriyah, Saudi Arabia, recently. Music plays an important role in the sustainable, climate-aware electric vehicle motorsport, which positions itself as a 'global entertainment brand with city-centre racing at its heart'. Budd, in turn, is an integral part of soundtrack creation, bringing his own distinctive sound to a worldwide audience.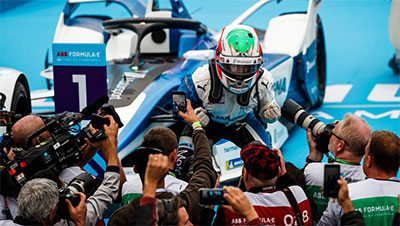 Key to his working method is an Audient iD22: 'Generally I deliver big batches of music for them to use in broadcast and in-race at the events,' he explains. 'This music also feeds into all the outside broadcasts worldwide, as well as on their social media channels, magazine shows and into the features they do.' One of these is Ice Drive, a documentary charting the electric street racing series as they try to run a Formula-E car on an ice cap.
'I'll get given briefs requesting "some banging breakbeat vibes for highlight reels" or "euphoric orchestral vibes for victory parades",' he continues. 'In a similar way to the film world, I have to make music to fit to the visual, without really having to compose to the cut directly. It's all music that has to serve a certain purpose, so I generally treat each piece like doing a cue for a film. It's broad but it suits my skillset well, as invariably I get to keep things musically in the electronic ballpark.'
Now in its fifth year, each one of the fully-electric international street racing championship seasons gets its own soundtrack. 'This project is very sample heavy, especially on the more orchestral-based stuff,' he says, having just his third season with Formula-E after getting the call from Head of Music & former Ministry of Sound colleague, Sam Cannon a couple of years ago. Describing it as 'a great challenge, which gets me out of my comfort zone' previously, he still enjoys getting his teeth into 'the multiple remits from the guys'.
'It's a great gig to be able align with such a forward-thinking brand, musically it works for my style while pushing me at the same time. It's also great to build with the brand and to see the growth year on year is amazing, Formula E really is the future of motorsports, they appear to be as ambitious as I am.' The Formula-E season continues in January 2019 with the race in Marrakesh.
When it comes to his studio set-up, an Audient iD22 'is still the centre of my hub'. 'I'm more about the ideas and final product,' he says of his relative distance from equipment. 'I'll use whatever helps the best to get the desired results, be it live musicians or synths from in or out of the box. The same goes for external hardware processing.'
As his main speaker controller and interface, iD22 'also proves useful for recording things like additional drums and guitars when needed and any vocal snippets. Same goes for all my workflow.'
Alongside his commissioned work, there is Chris Budd, artist: 'On my own artist side of things, I've got my next batch of releases with deadmau5's mau5trap imprint that are due early in 2019 and I'm chipping away at my own album material too. Then at some point soon I'll be packing my bags and getting back on the road as BUDD.'
More: www.audient.com