A new online video portal, Røde TV, promises 'much more than a simple collection of corporate videos' from the microphone manufacturer. Instead, the Australian company has generated original programmes for music and audio enthusiasts to access – free of charge.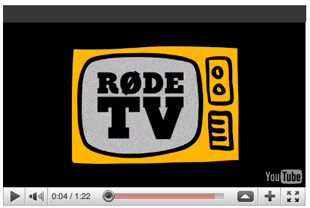 Six channels are selectable by a virtual 'remote control', providing content billed as 'what the team at Røde themselves would want to watch and be a part of'. 'Røde TV really is what we are all about here at Røde – it's what we live and breathe as both a pro-audio company and a collection of individuals with shared interests,' says founder and President, Peter Freedman. 'Since early childhood, my life and passion has been audio. Røde TV is giving both myself and the wider Røde family a voice to share that passion with the world.'
In Studio Rescue Grammy Award-winning engineer Francis Buckley helps a collection of home studio owners who are struggling to get the sound they're after – dealing with the compromise of recording in an environment that isn't purpose built. Share his wealth of knowledge, he shows how to get the best results out of these troubled studios. An initial 12 episodes of the show are already available, and Røde is taking applications for future episodes from all around the world (www.rodemic.com/studiorescue).
Freedman gets to meet and speak candidly with some of the people that have shaped the audio industry in Interview with a Legend. Get an intimate view of such incredible minds as Alan Parsons and the late Les Paul among others. Hollywood sound design experts are are featured in Røde Rage, as Røde University presenter and author Ric Viers chats with a range of personalities from film, television and video gaming for viewers interested in sound design, Foley or broadcast.
Who's Rockin' Røde? showcases artists from Grammy Award winners to independent YouTube sensations that are using Røde microphones every day in their studios, live on stage and out on location. Røde Backstage addresses touring with some of the world's premiere artists just before they hit the stage.
Finally there's the Røde channel for anything that falls between the cracks. Here is a mix of product videos, interviews and clips featuring tips and tricks for getting the most from Røde mics and a studio in general.
More: www.rodetv.com