Founded ten years ago by professional DJ Ryan Shaw, boutique audio manufacturer MasterSounds has recently opened a new Creative Hub.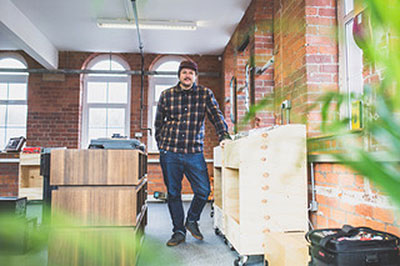 'I was DJing worldwide and had noticed that venues were caring less and less about turntables, and there was a shift within the DJ community from playing vinyl to adopting digital formats,' Shaw explains. 'I wanted to address the balance and provide premium quality audiophile products for analogue DJs.'
The company began manufacturing turntable weights, and now sells a range of premium hand-built DJ mixers, FX units, power accessories, turntable isolation solutions and upgraded Technics SL-1200 turntables, in collaboration with Union Audio (run by ex-Xone designer, Andy Rigby-Jones) and exclusive loudspeaker brand, TPI Sound. The client list spans genres, and includes DJ Harvey, Gilles Peterson, BICEP, Kolsch, Fabric London, Trojan Records, Phonica London and Ninja Tune.
With an increased inventory, MasterSounds moved into a new workspace in Stockport, with a state-of-the-art professional demo system for visiting clients.
'MasterSounds' new Creative Hub is a place for us to work, be creative and let customers pop by for a demo on our range of equipment,' Shaw says. 'The space is a former leather tannery with triple aspect windows and exposed brickwork reminiscent of a New York loft space, and I feel it's the perfect home for MasterSounds.'
More: www.mastersounds.co.uk