With three locations established and another set to launch, Central Florida's Action Church has made Allen & Heath dLive systems an integral part of its community. 'Our production demands are extensive and demanding,' says Music Director John Williams. 'That's probably why one of the things we value most is flexibility. With dLive, the options in our toolbox have grown without having to make additional investments.'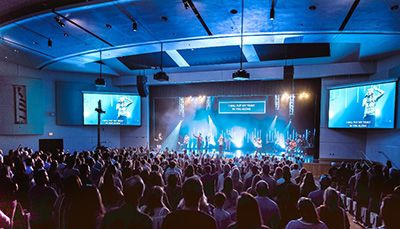 With its beginnings in Winter Springs, the fast-growing church opened its first location around four years ago and its second location two years later in nearby Oviedo. It spanned out further in 2017 to another in Sanford, and is planning a new location in Winter Park later this year.
Williams also steers the development of the audio systems in use at all locations. Working in conjunction with volunteers and the Bradenton, Florida-based Crown Design Group, Williams installed Allen & Heath's dLive systems based on their versatility, sonic quality, budget-friendly price point, and the unified approach they brought to the church's diverse needs and environments.
The dLive consoles bring portability to the church helping to fuel its growth. Among the four existing systems in use, three can be moved about freely. At the Winter Springs location, operations are spearheaded by an S7000 control surface equipped with a gigaAce card and a DM64 MixRack outfitted with a Dante card. Currently the site of broadcast operations as well, Winter Springs additionally houses a ready-to-roll broadcast rig supported by a dLive C3500 control surfAce with Waves onboard, and a DM0 MixRack packing a pair of Dante cards and a gigaAce card.
'If I want to bring something in via Dante and go out with Madi, it's not a problem,' Williams adds. 'We'll split from our FOH desk and move into our broadcast console with gigaAce, record tracks and playback in Dante, then perform audio embedding and de-embedding via Madi. Everything we do seems to require multiple layers, and dLive just stays lock-step with us all along the way.'
When Action Church's new location opens in Winter Park, it will be equipped with permanently-installed dLive capabilities using systems nearly identical to those currently serving its Winter Springs location.'
More: www.allen-heath.com