Following a limited run world premiere at the Oriental Theatre in Chicago in March and April 2018, Pretty Woman – The Musical moved to Broadway in August, supported by a sound reinforecement system from KV2 Audio. During four weeks of preview performances at the Nederlander Theatre, it broke the Nederlander Theatre box office record for an eight-performance week.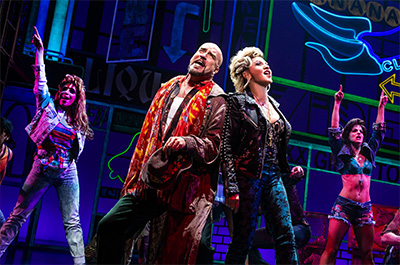 Based on the 1990 film Pretty Woman, the book for the musical was written by the film's director, the late Garry Marshall, and screenwriter JF Lawton. Pretty Woman – The Musical is directed and choreographed by Jerry Mitchell and featurs an original score with music and lyrics by Bryan Adams and his songwriting partner Jim Vallance. Orchestration was by Will Van Dyke with sound design by Broadway sound designer John Shivers and long-time collaborator, sound designer and audio engineer David Patridge.
Having used KV2 Audio for more than ten Broadway musicals including the audio refit of The Lion King, Shivers and Patridge again chose KV2 for its definition, ease of deployment and economy. They specified a system based around KV2s powerful and dynamic SL412 point source speaker system for the centre and two actively driven, narrow footprint full range ESR215s at left and right, and supplemented by a variety of application-defined loudspeakers from the KV2 portfolio, including the passive ESD Series and the active EX Series.
'Working in Broadway theatre is always a challenge physically,' Patridge says. 'Locations for speakers are often dictated by architecture such as box seats and sight lines. Fortunately, the narrow width of the ESR215 is a real asset. It has become our go-to loudspeaker for a main system at the proscenium.'
Shivers and Patridge also favour its point source design over that of a line array. According to Shivers it can be distilled to 'clarity, clarity, clarity...'
'The challenge is always to make it sound good for everyone, from the on-stage performers, to the orchestra, to the audience. As is typical with every design for musicals, the devil is in the details.' Patridge adds, 'Clarity and detail of the soundstage is most noticeable. Point source also ends up being more economical and easier to deploy in a theatre environment. Another benefit is the rejection of feedback when forward of the PA as compared to a line array. On Pretty Woman – The Musical this came in handy because much of the action is staged on a passerelle located where the railing of the orchestra pit would normally be – downstage of the speakers. We find KV2 loudspeakers are closer to working with something hi-fi.'
KV2's performance has been received well by everyone involved with Pretty Woman – The Musical: 'We got raves from everyone involved,' Shivers says. 'Everyone from the producers to the director, choreographer, music supervisor, orchestrator/arranger and music contractor has commented on how amazing the system sounds. The smiles on the faces of the patrons and critics confirms it.'
More: www.kv2audio.com