The Aglantzia section of central Nicosia is home to the Box-T Sports Bar and Café, where sport and live music that ranges from classic rock to funk to jazz – along with a wide-ranging menu that includes seven types of burgers and a variety of house cocktails – are served up in the 200sq-m main space.
Hosting an average of about 250 patrons, and supplemented by outdoor spaces, Box-T needed a high-quality sound system that could deliver clear sound throughout, while overcoming the ambient sound typical of a busy bar and café. To that end, the venue's management called on V Hypersound & Light, who worked in collaboration with HyperSat Services.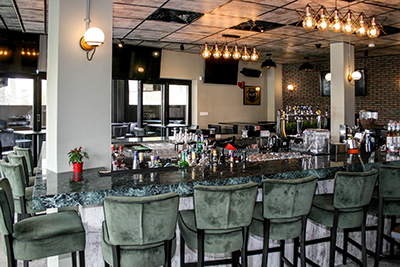 'As always, our first step was to visit the place to understand the acoustics of the space, and to get the architectural drawings in order to have a detailed understanding of the construction,' recounts V Hypersound & Light MD, Vassos Mouzouras. After a thorough analysis, Mouzouras designed a sound system for the Box-T based on Renkus-Heinz C-series point-source loudspeakers.
Several windows open onto the main space, which normally would cause issues with audio reflections. 'Fortunately the low ceiling balanced that unwanted effect,' Mouzouras reports. 'We decided that four Renkus-Heinz CX62 full-range point-source loudspeakers would be perfect for the main area because of the C Series' cutting-edge driver technology and unique innovations, which perfectly deliver natural sounding music and intelligible speech.'
The CX62 features dual 6.5-inch, heavy-duty low-frequency drivers with carbon fibre cones and a 1-inch, extended range, titanium high-frequency driver. Its wide-angle 150° by 60° coverage makes it well suited to relatively open spaces like the Box-T's main room. The externally powered CX models include a high-quality passive crossover network that can be easily bypassed with an internal jumper for biamplified operation.
For the outdoor spaces, Mouzouras specified 14 Renkus-Heinz CX61 loudspeakers, a more compact model from the same series as the CX62 that combines a single 6.5-inch low-frequency driver with a 1-inch high-frequency driver. Like the larger CX62, the CX61 provides 150° by 60° coverage. Although the CX61 can deliver up to 126dB SPL peak, and its heavy-duty woofer can handle 120W of programme power, Mouzouras added powered subwoofers to provide a bit more low-end support for the outdoor systems.
Given the overall size of the venue, Mouzouras created five independent audio zones. 'We created zones for the main area, entrance, side area, back area, and first floor,' he details. 'A 16-channel digital mixer, controlled wirelessly from an iPad, routes audio to the five zones. The iPad enables the Box-T's manager to remotely control each zone's sound individually from anywhere in the space.'
The new system has been everything the Box-T management hoped for and more. 'Renkus-Heinz C-series loudspeakers were definitely the right choice for the Box-T,' Mouzouras reflects. 'Every type of music sounds natural and full, and spoken word is clear and intelligible, and the wide horizontal dispersion pattern provides excellent coverage throughout the space, including outdoors. The client is very happy with their Renkus-Heinz system, as we knew they would be.'