Ultra Enterprises has spent its second consecutive summer in Ibiza, delivering nine-weeks of Resistance at the world's largest nightclub. In keeping with the group's consummate production values, a special Funktion-One Vero sound system was drafted in for each event.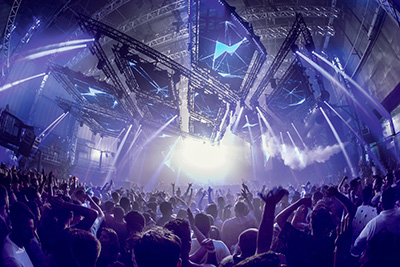 Beginning in July, Resistance took up residence at Privilege for nine successive Tuesdays, running throughout the summer until September. The underground electronic music event landed with the promise of 'the biggest production on the island' and backed that up with video, lighting and audio standards that have set a new precedent for Ibiza.
Launched several years ago as an offshoot of the Ultra Music Festival brand, Resistance has grown a global reputation as a champion of the best techno. In addition to stages at ten international festivals, parent group Ultra Worldwide produces over 30 standalone Resistance shows around the world each year – including this summer's return to Ibiza's biggest clubbing space. Key to the success of this Ibiza run – indeed of all Resistance shows – is the stunning visual and acoustic canvas it provides for the top name artists who come to perform. The Ultra team pride itself on enabling the best possible audience experience by using the best technology available.
According to Richard Milstein, Creative Director and Director of Design for Ultra Worldwide and Resistance, working with Tony Andrews and his Funktion-One team has long been a key part of achieving those high aspirations: 'Sound is one of the most important components of this. Funktion-One – especially for our Resistance brand – has been our number one system for many years,' he says. 'It's our main choice of sound system. Tony always recommends the best configurations for whatever environment we're in.'
The Resistance team were adamant that each show should stand head-and-shoulders above everything else that the island had to offer. To achieve this, they once again brought in a full Vero vertical array system to be used exclusively for the weekly shows.
Placed near the walls to prevent secondary reflections and to heighten the immersive stereophonic sound, two Vero hangs are designed to fill the entire room. Each is topped with two V60s, hitting the VIP area right at the back of the room, and completed with three V315s, three V90s and a further V60 to penetrate deep into the cavity beneath the balcony.
During the nine-week period, Vero stayed in the club but was only used on Tuesdays for the Resistance residency as a means of setting the audio standard in Ibiza. 'Russell (Faibisch – Founder of Ultra Enterprises) considers the quality of the sound to be part of the brand and Funktion-One delivers that quality,' says Funktion-One founder, Tony Andrews.
This vote of confidence has been repaid with an incredible level of hands-on support from the Funktion-One team: 'When guest engineers come over or tour managers are worried about the sound of their DJ, I really take pride in telling them we've got Tony Andrews,' says Resistance Production Manager, Charlie Canavan. 'He'll be here mixing and he's tuned the system himself.'
Throughout the summer, Andrews could be found roaming around the venue and making adjustments that ensured optimal audio quality reached every part of Privilege's vast footprint. As Canavan noted, Andrews' years of expertise and commitment to achieving the best possible sound quality make him an invaluable presence on site: 'Tony's never afraid to tell you if something's wrong or if he's not happy, and he'll gladly spend an entire day tuning the system. In my opinion, he is one of the very few geniuses left working in this industry.'
The Resistance team gives Andrews the freedom to explore and experiment, which led to the groundbreaking asymmetric bass set-up in Miami and now Privilege. Positioning the V221s (bass) on one side and V132s (sub-bass) on the other ensures singularity of delivery and avoids cancellations – resulting in punchy, well-defined bass. The V132s use linear motor technology from Powersoft.
For Andrews, Resistance is an endorsement of the Funktion-One philosophy: 'The fact that Funktion-One is the only system Carl Cox is willing to work on at Resistance – the biggest production of any club this summer – is fantastic. That kind of genuine product support is really rather amazing and unusual. It's also pretty significant that Russell Faibisch has brought Vero in especially.'
More: www.funktion-one.com