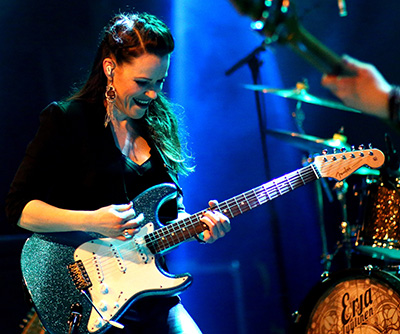 Voted Best Guitarist at the recent European Blues Awards, Finnish guitarist and singer-songwriter Erja Lyytinen is touring across Europe accompanied by an Allen & Heath SQ-5 digital mixing system.
Supplied by Finnish distributor F-Musiikki-Oy, the single SQ-5 handles both FOH and monitor duties for Lyytinen's Another World tour. 'SQ-5 is a compact, versatile and exceptionally good sounding console,' says sound engineer, Olli Huttunen. 'I love the ability it has to change the surface to just the way I want, this is particularly useful when handling IEM´s from the FOH position.'
The compact set-up comprises an SQ connected via SLink to an AR2412 AudioRack for remote I/O, which is rackmounted with a wireless IEM system and positioned on stage for a fast, simple deployment at any venue. Lyytinen herself also commented favourably on the sound: 'The new SQ mixer works great with the IEM and the whole band has been very satisfied with the improved sound quality.'
The tour currently includes of 40 shows across Europe, starting in Finland before making its way to the UK and Germany in November.
More: www.allen-heath.com