French loudspeakers manufacturer APG appointed Venuetech as its exclusive distributor in the Middle East, to cover the UAE, Saudi Arabia, Oman, Kuwait, Lebanon, Egypt, Qatar and Bahrain.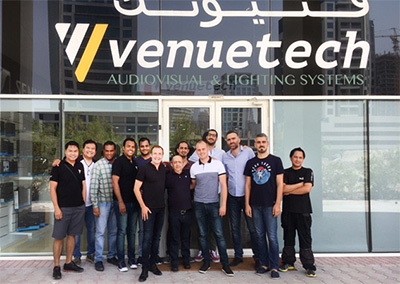 This partnership opens a new market for APG in line with the company's strategic expansion. After reinforcing its presence in France and European countries (including Spain, Denmark and Benelux), the French loudspeaker manufacturer successfully developed its brand in Asia with the opening of regional offices in Singapore and Hong Kong.
'The Middle East was for us the next logical step for our regional expansion, and this move further validates the strategic alliance with our sister company, Active Audio, who has been represented by Venuetech for a number of years already,' says APG Marketing & Business Development Director, Grégory Dapsanse.
'Our partnership with Active Audio encouraged us to extend our relationship with the group, through constant support and swift action,' says Technical Director and Product Manager, Elie Khairallah. 'APG has great products, particularly the Uniline Compact and DX series, the former of which represents a breakthrough in its field with its Isotop coaxial driver. I truly believe its performance/size ratio will surpass any box from the competition.'
With both brands now in its portfolio, Venuetech will be able to respond to any projects requiring sound systems in the region. 'Venuetech and APG have a similar philosophy in their approach to pro-audio: Both companies offer high end and high performance products and solutions that flexible enough to meet the most demanding requirements,' Dapsanse observes.
As Active Audio's distributor, Venuetech has already completed a number of major projects in the region, including the installation at the Sheikh Zayed Mosque in Abu Dhabi, where Venuetech used 96 custom MC2C columns from APG.
'For APG, Venuetech is a main player in the region, with a strong reputation and great credibility,' Dapsanse says. 'The company has invaluable distribution channel knowledge and technical expertise, as well as the capacity to handle high-profile, large-scale projects like the Sheik Zayed Mosque. With such a partner, APG's future in the region looks very promising.'
'The ability to customise audio solutions for the install market is very important, and APG excel in this field,' Khairallah offers. 'The wide range of products will fit into many venues, such as auditoriums, theatres, banquet halls and arenas, on top of being ideal for rental.'