DirectOut has recognised Pilote Films of France and KDMC of Denmark with the awards of Distributor of the Year 2017 and Outstanding Sales Performance of 2017 respectively.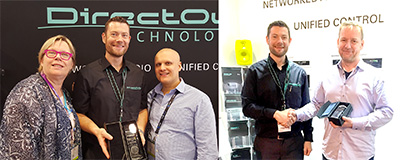 Founded in 1982 and based in Puteaux, just outside of Paris, Pilote Films is a well-known and established audiovisual distribution company covering the live and fixed installation markets.
'Many DirectOut partners performed quite well in the past year, but Pilote Films has performed incredibly well and this award is also a recognition for the whole journey that DirectOut and Pilote Films have travelled together, says DirectOut MD, Jan Ehrlich. 'We have been cooperating with Pilote Films since 2014 and both the personal and business relationships with the whole company have been developing in a very positive and productive way.'
'It's a great compliment for all of us here to be awarded and receiving the respect from the manufacturer for our daily work,' says Pilote Films Commercial Engineer, Julien Galifret. 'Our success is founded on a very good and close relationship with DirectOut, great team work and our loyal dealers. But most of the success comes from the quality and reliability of the products.'
KDMC of Denmark is a new distribution company located in Lystrup. Company owner Kim Johansen has been working with DirectOut products for more than six years, as sales engineer for the Danish distribution company Danmon. In its first full year as official distribution partner for DirectOut, KDMC hasachieved sufficient success to earn it the DirectOut 2017 Outstanding Sales Performance Award.
'It is always good to hear that the people you work with are happy,' says Johansen. 'I can only say the same about the relationship I have with DirectOut, including the people at the office, the support team as well as the products. I am also very happy that DirectOut has decided, without hesitation, to follow me in my new adventure as a distributor.'
Ehrlich has known Kim Johansen several years, and adds: 'We are extremely happy about our decision of selling our products into the Danish market through KDMC. The personal relationship with Kim has always been key for us while his experience and professional working attitude have made the rest. We're sure that this cooperation will continue to bear fruit in the future.'
More: www.directout.eu