With a growing youth congregation enjoying high-energy, high-volume praise, South Korea's Gyeongsan Central Church was struggling with its audio system. A Presbyterian church located in Gyeongsan City 300km from Seoul, the church was founded in 1959 and has become the largest in the city, with a congregation of 5,000. It has a particular focus on youth, whose services are held in its second largest space – a 30m long, rectangular hall.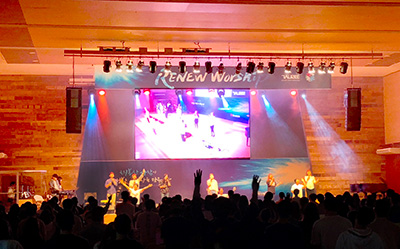 The audio system was installed when the current church complex was built, nine years ago, but the growing youth attendance and greater worship enthusiasm made it inadequate.
The church has a seven-member committee of elders and ministers, who had received proposals to solve the problem by adding extra front fill and monitor speakers. However, when they spoke to Park Sang-hyun of Seoul-based audio contractor Sky Sound, he said that changing a few speakers wouldn't make sense, as the issues affected the entire space.
Instead, he suggested replacing the entire FOH loudspeaker installation with an Alcons Audio pro-ribbon system to radically improve the sound throughout the hall. Proof that this was valid was provided when Park discussed the Alcons LR16 compact line array and LR14 ultra-compact line array systems that are installed at the Chunma Arts Center in nearby Yeongnam University. With the church having held a number of events there and a rental system of Alcons VR8 compact versatile monitors and BF151 compact subwoofers also having been used on a previous three-day youth retreat, the committee needed no more convincing that Alcons was the best solution.
Sky Sound worked with Alcons' South Korean distributor Corelab and specialist audio installer Ecosystem to supply the new system, which comprises flown arrays of six LR14 and two LR14B ultra-compact line array bass modules per side, powered and controlled by two Sentinel10 amplified loudspeaker controllers.
'Ecosystem has installed Alcons systems in other locations, including the LR14, and has also worked as a construction installation partner for Corelab, so the three companies were a very good combination,' says Corelab's Glenn Suh. 'The Alcons solution ensured that we could deliver the best possible sound pressure and frequency characteristics from the front row to the control room at the back, while also minimising reflections from the side walls and ceiling.
'The only minor concern we had was about low frequencies, so we decided to retain the 18-inch subwoofers from the previous system. However our concerns were unnecessary – we found that the LR14B reproduces very faithfully down to 40Hz and the existing subs are rarely used.'
The exceptional controllability of the new Alcons pro-ribbon system means that, however loud and enthusiastic the praise, the congregation clearly hears the words of worship.
'The church now has an excellent audio system and everybody is very happy,' Suh says. 'The ministers and young people who worship at this facility are reinforcing their faith in the renovated hall with the best possible sound.'