One of the fastest-growing cities in southern Africa, Lusaka is capital of the Republic of Zambia. With numerous radio stations serving the thriving city, the hottest of all is HotFM – a commercial radio station, delivering location live broadcasts, news coverage and interaction with listeners via social media platforms. It covers the region on three FM frequencies.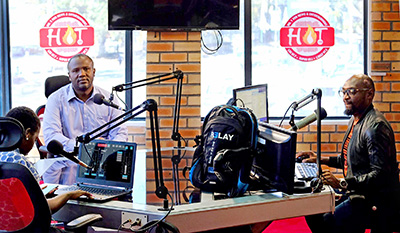 'HotFM is one of the most modern radio stations in Africa — that's why it chose Lawo,' says Meck Phiri of Lawo's Zambia sales partner, Meck Media Consult. 'Lawo radio products are AES67-compliant, easy to use, and future-proof. HotFM will deploy Visual Radio shortly; Lawo's standards-based AoIP infrastructure makes that possible.'
'The new studio went on the air at the start of August and talent loves it,' says Oscar Chavula, owner of HotFM and other stations in Lusaka. 'Touchscreen mixing is a huge advantage because it's so easy to learn and use. And in the field, a computer with Rǝlay and a 4G telephone connection makes it possible to originate high-quality remote broadcasts with much less equipment and very little setup time. We are the first in Zambia to do this and the innovation is here now.'
Rǝlay software that takes advantage of computer virtualisation technology adapted from the IT industry to enable broadcasters to mix, route, and process AES67 audio streams and computer audio via standard WDM or ASIO interfaces. Lawo's line of physical and virtual radio solutions include the new ruby radio console, sapphire, sapphire compact and crystal mixing surfaces, crystal Clear and Rǝlay Virtual Radio Mixers, and advanced VisTool GUI-builder software.
More: www.lawo.com