Located in the heart of New York's Times Square, Grey Noise Studios boasts two recording studios and three production suites including the largest live room in New York City – and has recently installed a Neve Genesys Black G32 mixing console.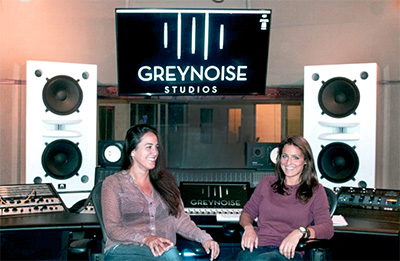 Once part of the famous Quad studios, the duo noew behind Grey Noise is Christina Chirumbolo and Stephanie Conte, who set up the studio in 2017.
'The location – 723 7th Avenue – is one of the most iconic music buildings left in New York,' Conte says. 'Tupac, Mariah Carey and Whitney Houston have all recorded in this building. Making it a studio once again felt like preserving a bit of history, while also providing a younger, cleaner vibe to fill that space in the market.'
Chirumbolo, whose background is in young artist development and whose clients include Goldlink, Smokepurpp and Lil Pump, believes that the Genesys Black has proven to be the perfect addition to the studio, appealing to the large hip-hop community in NYC: 'After installing the console, the first comments from our clients were that they felt bass was fatter and tighter on their mixes,' she says. 'They love the desk.'
'Neve's sound quality is second-to-none, and the hybrid nature of Genesys Black means that it is extremely versatile,' adds Conte. 'Clients using the studio recently have commented that the mic bus gives deep bass with clarity and smooth top end. The workflow of template-driven control and instant reset allow clients to set up sessions quickly and jump between songs and projects seamlessly.'
With the continued growth of Grey Noise Studios, the duo have their eyes on expansion: 'We aim to open additional studios in LA and London in the near future,' Chirumbolo says.