A pair of Argentine brothers recently called on the Walters-Storyk Design Group in Buenos Aires to create a high-end home studio for their Roma & Romma Records label.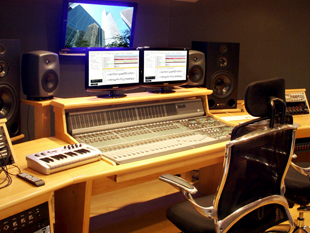 As the studio was to be built in an annex to the family home, particular attention was devoted to acoustic isolation. 'Our clients wanted the freedom play and record any time of the day or night without disturbing their family,' says WSDG-LA partner Sergio Molho. 'They retained us for the design-through-construction, and complete turnkey systems integration of a professional studio with acoustically perfect live and control rooms.'
Initial client meetings aided WSDG LA interior designer, Silvia Molho in establishing an ideal, home-like creative environment. 'Our goal was to personalise the control and live rooms to inspire their creativity,' she says. 'We selected contemporary shapes for the white and grey, multi-textured, fabric-covered acoustic/aesthetic wall and ceiling panels. The control room's grey color palette was chosen to compliment the technology and custom furniture. Vertical and horizontal lines in both spaces are highlighted by special lighting fixtures, and we treated the window connecting both rooms with carefully placed shapes and lighting elements to unify the studio.'
The Roma and Romma Records install features an Avid (Digidesign) D-Command 24 console surface, ProTools HD 24 workstation running on an Apple Mac Pro and Adam Audio S5VA loudspeaker monitors. Outboard equipment includes API 212, Avalon VT737, Millenia HV3D, Neve 1073, Empirical Labs Distressor and Manley VoxBox. Hearback personal monitors and Sennheiser HD-25 headphonestake care of the monitoring.
'WSDG has created studios for such artists as Fito Paez, Alicia Keys, Evette Sangallo, and Jay-Z, so we knew they would develop an ideal facility for us,' says studio principal Nicholas Romero. 'While we do not plan to make our studio available for outside productions, we wanted to insure the highest quality acoustic and technological support.'