The recent Dire Straits Legacy concert at Los Angeles' Wiltern – among the city's largest and most iconic theatres – saw Mode Audio debut its Fila Series line array, which was paired with Powersoft's X Series amplifier platform.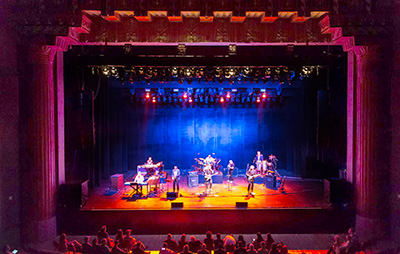 In what was a comprehensive search for the perfect amplifier platform, Mode Audio founder and Director Ruben Rodriguez primary requirement was a flexible system that was both efficient and musical. 'When I first tested the X8 and X4 amplifiers with our new large-scale line array system, I was amazed by the overall power of the X Series,' he says. 'On top of that, the clarity and musicality of the system – combined with the fact that no sonic colourisation was being added from the amplifiers – really solidified the deal for us.'
For the Dire Straits Legacy concert, six Powersoft X4 amplifiers powered 16 Fila 12.2 tops, providing nearly 50kW of power to the entire system. 'Our line array system is a four-way box, and the X Series four-channel amplifiers basically allow me to configure four boxes per component per channel,' Rodriguez explains. 'I can use four of the complete 12.2. boxes, with one X4 which is great because it saves us so much amplifier rack space.'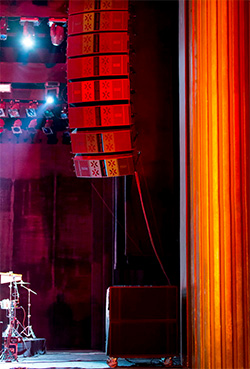 In addition to powering the Fila 12.2s, two X4 units were used to power four of Mode Audio's BPM-218 ultra-low, high-power subwoofers. As a result, Rodriguez also had power front of mind when selecting the X4 units for the system, which featured 10-15dB headroom. 'The headroom we had was just amazing,' he reports. 'The X Series amps never sounded like they were choking or stressing for power so that also made them a good fit for the system.'
X4 amplifiers come equipped with Powersoft's ArmoníaPlus System Manager software which provides remote control and monitoring of Powersoft's full range of products. 'Using the Armonía software helped make everything run even smoother,' Rodriguez says. 'Because this was the first event where we were showcasing the new line array system, it was great to have this support from Powersoft to ensure everything ran even smoother.
'The whole night went great,' Rodriguez reflects. 'It was a great show, and the sound quality from the X Series was amazing – so much so that even the band's sound engineer was extremely satisfied with the sound, and that of course gives me great satisfaction.'