A new recording studio at LIPA (Liverpool Institute for Performing Arts) Sixth Form College is centred on an Audient ASP8024 Heritage Edition mixing console. One of the newest colleges in Liverpool, LIPA Sixth Form College focuses on performing arts and is now entering its third year, offering a variety of courses covering Sound Technology and Music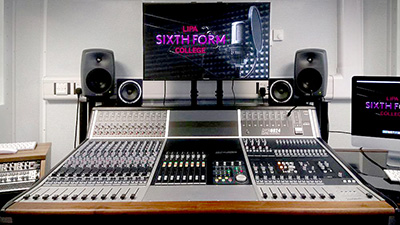 'We take in around 15 Sound Technology students every academic year, who will spend most of their time between the recording studio, Mac lab and theatre,' says sound technician John Kershaw, himself a LIPA graduate. 'All our music students will complete a recording module during their time here too.
'What struck me the most with Audient's designs was the simple and logical signal paths used in the desk architecture. This is obviously great for mixing engineers, but also makes it the best choice for teaching students. When students can easily retrace their signal path from input to output, they will nearly always be able to pin-point and resolve any issues without having to ask for help.'
The new studio uses the 
ASP8024-HE desk with 12-input channels, DLC control and master section with an Audient ASP880 patched in for expansion when needed.
'Using an iMac running Logic and Pro Tools, the ASP8024-HE provides students with a combination of analogue inputs and digital control, and are able to set up their sessions to run as 12inputs/12outputs for analogue tracking and mixing through the ASP8024-HE, or 16inputs/2outputs, and using the 12 inputs on the ASP8024-HE and a further four from the ASP880, mixing within the DAW using the DLC control faders and monitoring back through the ASP8024-HE.
'Both project mixdowns can be routed through the console's master section to make use of the retro iron, tone shaping and mix bus compressor. Both projects can also be routed easily through the foldback – for instance, a drummer can monitor from the analogue inputs while playing to a click coming back from a Logic return so as to avoid latency.
'One understated feature of the ASP8024-HE is its noiseless power supply,' he adds. 'This is a huge advantage for anyone working in a small control room where fan noise from the desk, computers and other devices can really affect your mixing.'
Everything in the building is networked, so that studio projects can be accessed anywhere. 'This is great for teaching staff who need to check the progress of work without disturbing current sessions,' Kershaw says. 'It is also great for students who need to work on projects without having to book the studio, saving precious time.
'We also have a couple of Audient iD4 audio interfaces dotted around the college. These little boxes are great for recording vocals, dialogue and for re-recording individual tracks on studio projects. They look and feel like the master section of an analogue desk.
'It is our hope that tech students from LIPA Sixth Form will graduate and gain a place at LIPA HE to study on the Sound Tech degree programme,' Kershaw says. 'Having already used the ASP8024-HE in college, they should feel right at home with LIPA's studios housing two original ASP8024s.'
More: www.audient.com