The latest high-definition outside broadcast vehicle to be commissioned by South Africa Pay-TV channel Super Sport includes a SoundField DSF-2/DSF-3 surround-capable digital microphone system in its spec.
Constructed by Sony Broadcast Professional in the UK, the truck will support a mix of sporting broadcasting, including Rugby, Cricket, Soccer, Boxing, and Tennis's Davis Cup.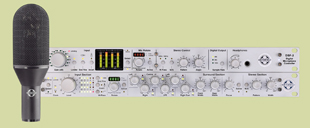 Following the model established by BskyB in Europe, Super Sport's move to HD transmission with audio in 5.1 in the mid-2000s saw it adopt a similar workflow. SoundField systems including the DSF-2 microphone and the DSF-3 digital surround processor are now the broadcast standard for 5.1 OB transmissions at Sky, and MNET/Super Sport has pioneered the same technology. Four of MNET's six DSF-2 systems are now additionally equipped with DSF-3 digital surround processors, creating a complete digital signal path for the 5.1 signal from the DSF-2 microphone to Super Sport's broadcast transmitters where needed.
Super Sport and its sister pay-TV channel MNET were early adopters of the UK microphone manufacturer's digital systems. Representatives from MNET first made contact with SoundField at the IBC exhibition in Europe in 2006 – the first year the completed digital microphone systems were shown publicly.
'The DSF-2s are great systems, and they and our DSF-3s have done some great work on our HD Rugby, Cricket and Boxing coverage here in South Africa,' says MNET/Super Sport Audio Supervisor Mark Boyle. 'Once we had a few SoundField systems up and running, the managers of MNET insisted on coming in to have a listen to the system. They trusted our technical judgement, but wanted to hear for themselves what was possible from a 5.1 microphone setup. All it took was a quick listen and they were convinced. We raised the fader on the DSF-3, they listened for a while, and were blown away.'
The latest installation brings to six the total number of DSF-2 systems in use in MNET's OB vehicles.
More: www.soundfield.com