Part of Belgium's ten-day Gentse Feesten (Ghent cultural festivities), Boomtown attracts as many as 1.7m visitors annualy. Held at the 850-capacity Handelsbeurs Concert Hall, as well as Opera Ghent and on outside festival grounds, Boomtown joined the 175-year-old event in 2000, and today provides three stages and 41 acts over five days. The event combines indie music from some of the country's up and coming talent with international acts like Suzanne Vega (who appeared in Opera Ghent).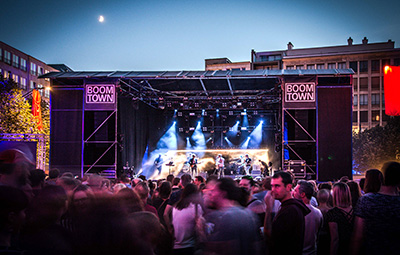 Martin Audio rental partner, ARC-Productions from Dentergem, added MLA Compact to its inventory in 2014, using it for the first time at Boomtown. Prior to that, the company had deployed Martin Audio's W8LC, and going back even further, a W8C and W8CS combination.
This year, ARC-Productions hung eight elements of MLA Compact on each stage wing, with 12 SXH218 subwoofers in 4x3 stacks, run in cardioid mode. They also added two MLA Mini/MSX delay positions to cover a 900sq-m outdoor area. This met a design and specification conceived by freelance sound engineer, Jan De Rycke, who was appointed by the organisers. However, MLA needed astute optimisation by De Rycke himself, to ensure there was no offsite pollution and that levels remained consistent at every audience position.
Featuring dual long-excursion 18-inch (460mm)/4.5-inch (115mm) voice coil neodymium drivers, the hybrid horn/reflex loading of the SXH218 combines the acoustic efficiency and impact of bass horn technology with the LF extension of a reflex design, enabling it to produce significantly higher output levels than a traditional reflex-loaded subwoofer. In fact it is capable of producing 148dB peak output at 1m.
The overall performance of the PA met the approval of both audiences and production manager, Arc-Productions' Marc De Baets: 'With the new SXH218, we certainly achieved our goal,' De Baets reports. 'It produces a great sound and the level is almost identical in every location. You don't have to go "loud" in order to get a good sound. It's really nice working with the SXH218, even with the level restrictions.'
More: https://martin-audio.com