'We're part of a new breed of Music Technology university courses,' says Dr Mark Mynett, Senior Lecturer and Admissions Tutor at the Music Technology and Production department of the UK's Huddersfield University. 'We are very heavily tied to industry, and it's all about tailoring our courses to make sure that students get strong employment opportunities in industry.'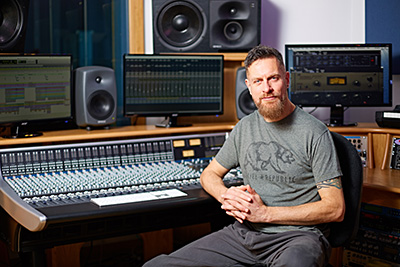 Huddersfield University has a well-developed set of Music Technology courses made up of modules that range from highly technical content to wide-ranging production skills. The courses are accredited by the IET (Institute of Engineering and Technology), and JAMES (Joint Audio Media Education Support), and the university recently received the TEF (Teaching Excellence Framework) Gold Award.
The department's most recent investment is the acquisition of a Solid State Logic AWS 924 δelta SuperAnalogue hybrid console for in its studio and teaching facilities. The new SSL is installed in the flagship Blue Rooms 1 studio and joins several other SSL consoles at the facility.
The Music Technology and Production department runs three main courses. Music Technology and Audio Systems has a technical leaning and includes software development, large systems environments, acoustics, and electronics. The Sound Engineering and Music Production course focuses on content, with music, radio, and live music production, as well as post production, with sound design/Foley, sound-for-picture, and 5.1 mixing aspects, amongst others. The Audio Engineering course includes both production and technical content, with studio, live, and broadcast sound engineering, as well as consumer and professional audio systems, and more.
The department has 13 studios in total, and several live rooms of various characters. The new SSL AWS 924 is in the flagship Blue Rooms 1 studio with Genelec monitoring, a range of outboard gear, and a good-sized, carefully controlled live room. There are also thee SSL XL Desks around the facility in other recording rooms. 'The foundation of our studios has always been great acoustic design,' says Mynett. ' We wanted to match the quality of that studio with a really top-end professional console. And there is no doubt about it, the 924 is a phenomenal-sounding desk. It combines the best classic desk architecture, and beautiful EQ section, the amazing bus compressor with all the other up-to date facilities, like the DAW control.'
From both students' and the University's perspective, equipment at the facility also must meet a number of important roles that aren't simply defined by features and audio quality. 'From the start of a student's journey,' explains Mynett. 'The SSL has got the 'wow' factor. When prospective students come for open day they see an SSL – a world-renowned mixing desk – that speak volumes.
'It's also great to learn on. It's so intuitive that if you work out how you think you should do something, you're probably right. It's a beautiful, ergonomic design, with a tactile feel that's wonderful to work on.
'But more than anything, it's the sound quality. If you're putting students into an industry, and they are expected to reach to top of their fields, its important they have equipment that is in line with those expectations.'
More: www.solidstatelogic.com