Norwegian production company Rainbow Events has added a Soundcraft Vi1 digital mixing console to its inventory.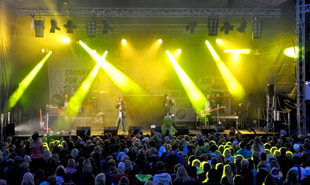 Supporting concert tours for major national and international artists, the Oslo-based company is able to provide sound reinforcement and services for events with up to 30,000 attendees. It's project portfolio includes festivals, clubs and theatres, and the Momarkedet Festival in Mysen, Norway.
Rainbow's Per Langsholt says that making the move to the Vi1 was a natural progression: 'When we first formed the company, we started out using the classic Soundcraft 1S console. Since then, we have been impressed by the quality and reliability Soundcraft provides.
'We pride ourselves on our close relationships with the artists and our thorough technical knowledge of the equipment we use, giving us an advantage in the planning and execution of concerts and events,' Langsholt continues. 'Here in Norway, it seems many engineers now prefer to work with a Soundcraft Vi Series console. The board is compact and touring-friendly in size, yet has 64 input channels. It's easy to set up for recording as well as for live sound mixing, and the big touchscreen provides a good overview of the status of inputs, outputs and onboard effects. It has fast and easy access to all mixing functions, and you can quickly load shows and cues. It's also a very stable system.'
More: www.soundcraft.com