Martin Audio has named Sama Sound as its new Korea distributor after both parties sought new opportunities to expand their respective businesses with different partners.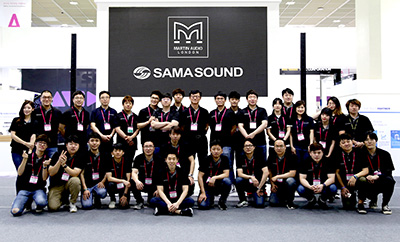 'From our perspective, developing a premium speaker portfolio was part of a strategic plan we had in place for a while, and we agreed to begin this exciting new journey, recognising that Martin Audio is a premium brand in the market, with a reputation built up over many decades,' says Sama Sound President, Jason Inn.
Established in 1969, Sama Sound has long been one of the leading companies in the pro-audio industry and represents many major brands in the region. Inn intends Sama Sound's first priority will be an educational one, apprising customers of Martin Audio's technical philosophy and history in order to build brand loyalty.
'MLA is the system that the majority of people know, but, Martin Audio has an excellent all-round product range, from Blackline X upwards. We believe Wavefront Precision series has strong potential in some vertical markets.'
The rental, theatre and HOW sectors will be the company's main targets for Martin Audio's line array products: '...but really there is no limitation in other vertical markets we can penetrate, since Martin Audio's product range has been well planned and thought-out.'
Sama is planning a series of marketing activities to promote the brand, focused on Experiencing Martin Audio. This will begin with a launch event using the core message 'Experience'. This will focus on Martin Audio's history, technology, philosophy supported by staff from Martin Audio and an MLA demo. Different music genres will be played for audiences including live traditional music to show how the system will deliver authentic Korean music.
'Since there have not been many opportunities for people in the region to listen to music via MLA so far, we strongly believe it is going to surprise a lot of people,' says Inn. Training and further product demonstration will follow. 'Having looked carefully for opportunities to expand our product portfolio, we believe that with the acquisition Martin Audio we can now comprehensively service the market and grow together, increasing market share by developing synergy with our current partners. We are extremely excited about the new journey.'
'Sama Sound has enjoyed great success over many years in the Korea market, both in rental/touring and the wider installation market,' says Martin Audio APAC Account Manager, Andy Duffield. 'With Martin Audio's proactive product strategy generating above industry growth in APAC both in 2017 and year-to-date, we felt the time was right for a change in our distribution to ensure success across all vertical markets.
'In looking for a new partner we were impressed by the professionalism, attention to detail and commitment to the brand shown by the team at Sama Sound. This, plus their highly proactive and connected approach to the market, made the choice easy for us. We are thrilled at the prospects of working with Sama Sound in the years ahead.'