Located in the heart of Plano Texas, Legacy West combines residential, retail and hotel accommodations, with a 55,000sq-ft dining and entertainment hub, which has been equipped with a Vue Audiotechnik sound system installed by Facility Solutions Group.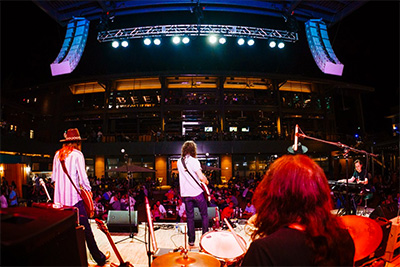 With more than 20 drinking and dining options spread across three levels, Legacy Hall's jewel is The Box Garden – an indoor/outdoor performance venue with stage, LED video wall and lighting, as well as a tour-quality audio solution designed by Nautilus Entertainment Design (NED), and installed by Facility Solutions Group (FSG).
According to NED Principal Audio Designer/Consultant, Alan Edwards, the audio system for The Box Garden needed to deliver on three fronts: 'First, Legacy Hall wanted to attract top-tier talent, so sound quality had to be on point. In addition, because this is a semi-outdoor venue in the middle of an urban development, we needed to keep the sound tight. Finally, the system had to be weather resistant with strong rigging options to resist wind loads.'
NED's design is based around the Vue al-8 Acoustic Linearity Line Array System, with additional Vue models deployed throughout the venue for further coverage and low-frequency support. 'Vue offers a broad mix of loudspeaker options with very consistent voicing across the families,' Edwards explains. 'I really appreciate being able to address a lot of different spaces with a single brand, while being fully confident that sound quality will be exceptional, regardless of size.'
The configuration consists of dual al-8 arrays of ten elements each. Four Vue as-215 dual 15-inch vented subwoofers are located under the main stage, while front and side fill comes courtesy of four Vue i-2×4.5 low-profile full-range speakers mounted underneath the stage lip, and two a-15 full range speakers, one on each side of the stage. Four Vue a-10 full-range systems serve delay duty. Five VueDrive V6-I Systems Engines provide amplification and system processing for the line array.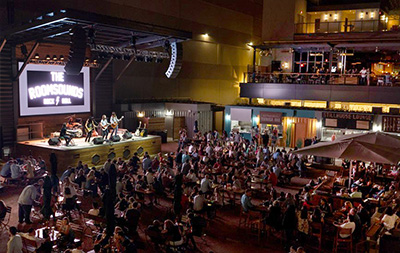 A selection of Vue i-Class and a-Class systems handle The Box Garden's multi-level balcony areas. Included are eight i-8 full-range systems, 14 Vue is-26 compact surface-mount subwoofers, and eighteen Vue a-10 full-range systems.
Legacy Hall's high-tech build-out took nearly a year to complete, with The Box Garden's audio and lighting systems just one part of a much bigger project. With little room for unexpected complications or delays.
'I had not worked with Vue prior, but I'm really impressed with the product and the team in Escondido,' says FSG Technology Project Manager, Peter Hensley. 'From ordering and shipping to working with our structural engineer on the rigging, the entire Vue team was really helpful and the whole process was very smooth.
'The al-8 went up really easy and sounded amazing from the moment we turned it on with almost no tweaking. You can hear every aspect of the sound in detail and there's a noticeable difference in the range over other systems. Output was exactly as predicted – very controlled and exactly where we expected it to be. I've already started recommending Vue to other clients.'
Opened in May 2018, The Box Garden is drawing praise: 'I've received a lot of positive feedback from visiting engineers to guests and management alike,' Edwards reports. 'The al-8 line array required less than three filters to get it perfect in the Legacy West venue. It's clear to me that Vue understands the value of getting it right at the cabinet level, then using DSP to augment rather than as a fix for a bad design. The al-8 is really impressive.'
More: www.vueaudio.com