Dubai-based Showtech Rentals has taken a Clear-Com Tempest2400 RF wireless intercom system from local distributor NMK.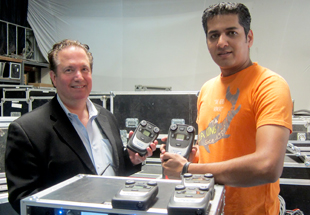 The sale includes a Tempest 2.4GHz base station, five belt stations and a number of CC-95 headsets. 'Showtech is one of Dubai's most active rental firms, with constantly being in and out of different venues the need for a flexible yet reliable system is paramount,' says NMK Marketing Manager, Richie Hiranandani. 'The system also seamlessly integrates with their existing wired intercom systems, hence a clear choice for Showtech.'
The new Tempest system is currently the only four-audio channel, digital wireless system able to operate license-free in the 2.4GHz band, using the 2.4GHz Frequency Hopping Spread Spectrum (FHSS) in conjunction with TDMA technology. Once registered to a base station, a beltpack needs no further configuration and roams freely within a single zone area, making it perfect for live sports, breaking news, and high-coordination productions such as awards shows.
Other major features include 2xTX Transmission Voice Data Redundancy and its interoperability with Clear-Com and other intercom systems through two-wire and four-wire connections.
More: www.showtechme.com