Cambridge-based Professional Audio-Visual (Pro-Av) has taken a JBL VRX line array PA system and 60-channel AKG digital wireless system for major conference sound applications.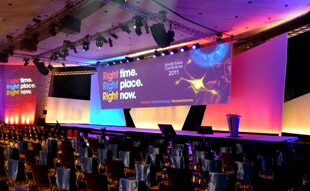 Operating a sharp inventory of sound systems, stage sets, staging, cameras, lighting and computer based presentations, the company has added the VRX Line Array and AKG's flagship DMS 700 digital wireless system as part of a major investment in staging services – which were both supplied by Sound Technology.
The company chose their acquisitions carefully before placing their first order for the Harman Pro equipment through resellers CoNi. The JBL line array system, comprising eight VRX 932LAP powered 12-inch, two-way systems and four powered 18-inch VRX918SP 18in sub bass, was chosen after testing several alternatives. Many rigs were regarded as 'too rock and roll'… 'However, the JBL system hit the spot, as it is easy to set up and produces an ideal conference sound, for high sound pressure levels needed at awards and larger scale events,' says company founder, Paul Kent. 'On top of that, the quality and finish of the units is exceptional.'
Kent also liked the fact that the VRX system is powered by Crown amplification – mindful of the outstanding reputation the brand has enjoyed for build quality and reliability dating back to the 1970s.
Pro-Av also purchased eight JBL PRX 600 powered speakers to supplement the VRX system, which will be used for conventional sound reinforcement at smaller events. 'These units have incredible build quality and are also powered by Crown,' says Kent.
He was also happy with its AKG DMS700 digital wireless system, which is capable of operating on the future-proof Channel 38: 'As one of the first companies to offer digital microphone systems, this gives us the ability to run up to 100 systems at a time, in close proximity.'
The new equipment was debuted in January on the island of Tenerife, for an international sales conference attended by more than 1,000 people, hosted by a major pharmaceutical company. Pro-Av equipped the main Magma conference venue with all equipment and technical back, at the same time providing audiovisual support to a further 82 conference rooms spread across six other hotels on the Island.
Set up by Paul Kent in 1995, Pro-Av has developed into an operation turning over £1m per annum in equipment hire and technical services. 'We have invested in people, infrastructure and up to date equipment technology to the tune of some £600,000 over the last four years,' he says. 'We are poised to increase market share this year, with many new contracts already in the diary.'