Probably the world's premiere tribute act and certainly the best-known, The Australian Pink Floyd's 2018 tour marks 30 years of celebrating the music of one of the most influential bands of all time. In those three decades TAPFS have sold in excess of 4m concert tickets, performed in 35 countries and were even engaged by guitarist David Gilmour to perform at his 50th birthday party.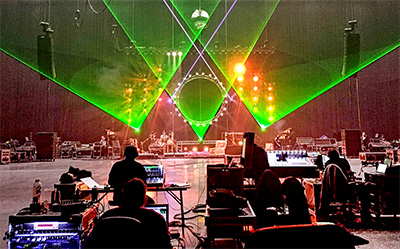 Floyd's vast and immersive soundscapes have to be delivered in every detail to audiences that know the material inside out – a duty that recently fell to London-based Capital Sound Hire and a newly-purchased Outline Superfly compact line-source loudspeaker system.
The system configuration varies according to venue, but Capital's Outline equipment touring withThe Australian Pink Floyd includes 32 Superfly and 12 GTO-Sub subwoofers as the main LR system, 18 Mantas 28 modules for side-hangs and six LIPF-082 lip-fill enclosures, all powered by just four Outline X8 amplifiers.
'I am glad to provide some feedback about Superfly, as I have been bursting to tell people about it,' says Trevor Gilligan, who is manning FOH for the tour. 'This can be summed up in one word – perfect.
'It was great on the first show, but now with a little input from myself and excellent work from system tech and good friend Mark Edwards, this rig has reached a new level of live sound, from small rooms to large rooms it simply does its job. It's very solid, great coverage, it creates an image that's right in front of you. I am using much less left/right EQ and when we do a very big room and we take the volume level up it all goes up together – you never get the sub and hang difference that you can with other systems.
'All the effects I am using have come to life with a new depth and stereo image I've not heard before, in fact you don't realise how good the onboard FX and processing is on the DiGiCo SD5 until you hear it through this system,' he adds. 'The tuning of the boxes themselves is perfect, everything come out at the right levels and the relationship between the hangs and the subs is seamless and musical – with this show that is very important, as we are doing different Floyd albums that stretch over many years and a lot of styles ranging from whisper volume to stadium anthem. This rig is perfect for all of them.'
Capital's System Technician Mark Edwards is also very happy in his work so far with Superfly: 'The system is really easy to use. It travels in cases of two, you just set the angles while it's on the ground (very quick to do) then send it up two boxes at a time. The crew just have to pin it at the back then once raised into the air, lift and pin at the front. No need to explain complicated angle procedures to the local crew, just one hole each side at the back and one each side at the front. The bonus is that I can fly and land it on my own if necessary.'
'The system performs well and has a relatively neutral tonality and character that remains pretty constant from day to day. It is still a loudspeaker system in an acoustic space so tuning varies from day to day as expected, but the guys from Outline were at rehearsals at FBN so we spent an afternoon discussing how to use OpenArray correctly to get the best from the system.
'Incidentally, Outline's support has been excellent, they have come out to a couple of shows already and given office based support by chasing down CADs of venues and sending me ready-to-use venue files each day. Saves me an hour measuring the room every morning.'
'Superfly is honestly the jewel in the crown from the Outline family,' says Capital Sound Operations and Development Director, Paul Timmins. 'Weighing in at under 38kg, its compact volume should not be of concern as this system has punch and power. The Australian Pink Floyd show in Lille Zenith was a band and venue I know well, the clarity and headroom was impressive and covered the 5,000 capacity, 70m room with ease. We see this as a tool that can be used in a huge variety of venues due to its weight versus performance – and that has to be good.'