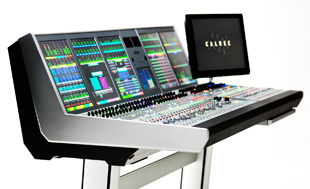 The redevelopment of the BBC's Broadcasting House facility in London will make it the world's largest live broadcast centre, as well as being the 'home' of the British state broadcaster.
As part of the works, UK mixer manufacturer Calrec Audio has agreed the sale of four Artemis Beam consoles which will join an existing Calrec Zeta desk. The desks will be installed in four TV News studios being constructed as part of the redevelopment.
One TV news studio is already operational, and features a Calrec Zeta audio console. Three of the new TV news studios will receive identical 40-fader Calrec Artemis Beam consoles, and will be dedicated to 24-hour news channels. The fourth, a larger flexible rig studio, will receive a 48-fader console.
Supporting its digital operation, Broadcasting House will use Snell Kahuna HD/SD multi-format production switchers in each of the four largest studios. The Kahunas will drive live news programmes and support the centre's migration to HD operation. 'The BBC is creating a centralised focus for its national and international news operations that will bring the World Service and the domestic news service together on one site,' says Tom Swan, Sales & Marketing Director for dB Broadcast, the company providing the Snell equipment.
The Kahunas will see service in three fixed-rig studios and one flexible-rig studio, switching all incoming content and clips for the 24-hour World Service and News Channel broadcasts, but will still draw on SD and other format sources, making the Kahuna's multi-format capabilities essential. In addition to the four Kahunas, the centre will use two Snell Sirius 850 1152x1152 routers.
The redevelopment also finds AKA Design with a contract from independent systems integrator, dB Broadcast, to supply nearly 100 technical desks for Broadcasting House. The AKA technical furniture will be used in four studio galleries, which will house the BBC'S television news channels.
News teams start moving in to the studios from 2012. The Artemis Beam consoles are not expected to go on-air until 2012-3.