Music industry VIPs and celebrities filled London's Cafe de Paris on Wednesday evening for the 2011 Music Producers Guild Awards.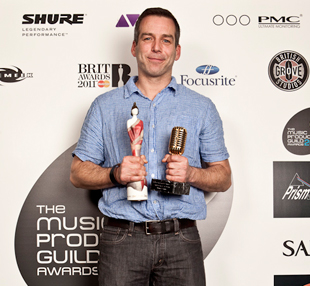 The annual event – recognising music recording professionals – saw the top award for Producer of the Year (which also earned its winner a Brit Award for Best Producer) went to Markus Dravs, who was nominated for his work as producer on Mumford & Sons album
Sigh No More
and his co-production work alongside the band on Arcade Fire's album
The Suburbs
. Dravs was presented with both his Music Producers Guild and Brit awards by Chris Martin from Coldplay, whose album he is currently producing.
Other award recipients included Mute founder Daniel Miller, who won the Outstanding Contribution to UK Music Award, and producer Tony Visconti, who won the Joe Meek Award for Innovation in Production.
Although only in its third year, The Music Producers Guild (MPG) Awards has now firmly established itself on the music industry calendar. Hosted by BBC 6 Music's Nemone Metaxas, this year's Awards were a sell-out, reflecting the importance of recording professionals to the UK music industry and the UK economy.
'We had many more nominations this year and the calibre and array of genres represented by the nominees was incredibly high,' says Steve Levine, MPG Chairman. 'These awards mean a great deal to the UK's professional recording community because they know they are being judged by their peers. Audio professionals are positioned at the very heart of the music industry – we guide the artistic creation that is the lifeblood of our industry. We are delighted that, once again, we have been able to highlight their remarkable achievements before such an extensive and illustrious audience."
In total, 15 Awards were presented in front of an audience that included Boy George, The Coral, Alison Goldfapp, Gary Numan and Razorlight's Andy Burrows.
The Awards
Producer of The Year (sponsored by the BPI): Markus Dravs
Shortlist: Ethan Johns, John Leckie, Mike Pela, Stuart Price
Recording Engineer of The Year (sponsored by Prism Sound): Guy Massey
Shortlist: Phil Brown, Matt Lawrence, Tony Platt
Mix Engineer of The Year (sponsored by Solid State Logic): Mark 'Spike' Stent
Shortlist: Mark Rankin, Cenzo Townshend
Mastering Engineer of The Year (sponsored by Sadie): Tim Young
Shortlist: John Davis, Ray Staff
International Producer of the Year (sponsored by British Grove Studios): Daniel Lanois
Shortlist: T-Bone Burnett
Live Album of The Year (sponsored by Shure): BBC Electric Proms 2009
Shortlist: Il Divo – An Evening in Barcelona, Take That, Greatest Day
UK Album of The Year 2010 (sponsored by Focusrite): The Coral, Butterfly House
Shortlist: Mumford and Sons - Sigh No More, Robert Plant and The Band of Joy - Band of Joy
UK Single of The Year 2010 (sponsored by PMC ): Plan B, 'She Said'
Shortlist: Mumford & Sons 'The Cave', Paloma Faith 'Do You Want the Truth or Something Beautiful?'
The Joe Meek Award for Innovation in Production (sponsored by Joe Meek International): Tony Visconti
Shortlist: Bjork, Trevor Horn
Re-mixer of The Year (sponsored by Novation): James Rutledge
Shortlist: Freemasons, Simon Gogerly
Breakthrough Producer of the Year (sponsored by Deep Recording Studios): Eliot James
Shortlist: Labrinth (Timothy McKenzie), Starsmith (Finlay Dow-Smith)
Breakthrough Engineer of the Year (sponsored by Genelec): Jake Jackson
Shortlist: Stevan Krakovic, Andy Savours
Studio of the Year (sponsored by Music Week): Air Studios
Shortlist: Livingston Studios, Metropolis, Strongroom
Outstanding Contribution to UK Music (sponsored by PPL): Daniel Miller
Unsung Hero (sponsored by Pro Sound News): Adam Sieff
More: www.mpg.org.uk