Recently completed, the conference room in the Vracar municipality of Belgrade that serves the local government has an impressive audiovisual system capable of supporting cinema presentations, alongside its duties supporting conferences and multi-media presentations.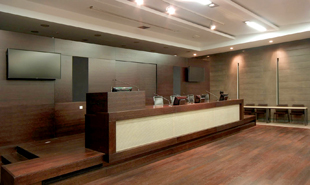 The system is centred on a Symetrix Automix Matrix 780 digital signal processor and has six Clockaudio gooseneck microphones for delegates and a pair of Clockaudio wireless microphone systems for lecturers or audience questions. A 48x2 bantam patchbay and two Extron stereo audio switchers operate with the 12-input Automix Matrix 780 in such a way that the routing controls supplied by the 780 deliver or suppress appropriate inputs for a variety of circumstances. The Extron switchers allow technicians to preview source material from a complement of audio and video devices – iPod jack, DVD, Blu-ray, BR/HD recorder, PC, notebook, Flash Card audio recorder among them.
The outputs serve a speech-reinforcement system, a hi-fi media playback system, media output, and a recorder. For the speech-reinforcement component, a Symetrix 581E distribution amplifier sends signal to Lab.gruppen C-series amplifiers, which in turn feed a central HK Audio loudspeaker array. Two Symetrix 780 outputs supply signal and corresponding mixes to Extron in-wall loudspeakers at the lectern and at the president's desk for audience first row fill. Lab.gruppen C-series amplifiers also power a stereo pair of HK Audio 12-inch two-way loudspeaker systems on either side of the projection screen. An HK Audio 15-inch subwoofer supplies the rumble, when needed. Finally, a Tascam HD-R1 flash card audio recorder makes it easy to archive committee meetings and the like, also providing very useful LAN access for audio file transfer to municipality administration for transcription.
The design and installation the A/V system fell to Belgrade-based Lola Audio. Zoran Kecojevic, former GM and now owner of the company led the effort, relying on nearly four decades of experience to deliver a system that is flexible enough to accommodate a range of events that includes as meetings of political parties, training of government staff, presentation of nw town planning and architectural projects, scientific lectures and celebrations. Despite its flexibility, Lola Audio designed a user interface that is intuitive and simple to use.
The Symetrix Automix Matrix 780 forms the heart and brain of the system. Input processing includes equalisation, filtering, and dynamics, along with Symetrix' feedback suppression and auto-mixing algorithms, both in conference and presentation modes. 'The Symetrix Automix Matrix 780 is a perfect device for an installation like this,' says Kecojevic. 'The 12 inputs and eight outputs meet the system's needs, and all of the processing capabilities and routing logic are powerful and easy to implement. On top of that, the unit occupies just one rack space and comes in at a price point that is very competitive.'
Users operate the system with a Crestron controller and/or an Axiomtek touch-panel PC. The Crestron six-inch touchpanel sits at the lecturer's desk and allows for event-related preset selection, direct mute, volume control, and other commonly required tasks.
'It was very easy to use third-party controllers with the Automix Matrix 780,' says Kecojevic. 'The Ethernet connection and protocol is simple and robust.'
For more demanding events, such as presentations with many talkers or celebration recitals, the Symetrix 780 control software can be used from a separate control PC.
More:
www.lolaudio.com
More:
www.symetrix.co
More:
www.clockaudio.com
More:
www.hkaudio.com
More:
http://labgruppen.com