The latest performing arts education facility to open in Liverpool, the Capstone Building at Liverpool Hope University is a multi-function performance and education facility for its performing arts courses, as well as a base for a range of local music and drama organisations.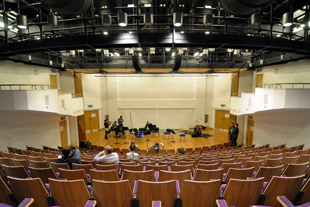 The At its heart is a modern performance hall, with seating for 200 people, which features an Alcons PA system. Comprising six LR7 and one LR14B per side, the system was designed by Ian Rees of Norwich-based Adrian James Acoustics. Because of the hall's size and configuration – featuring balconies on each side – the Alcons arrays are flown from close to the centre of the stage, splayed out to cover each half of the hall.
'When flown at the sides of a proscenium arch, a problem with the wide dispersion of any line array is that they tend to drive a lot of energy into the walls,' Rees says. 'With the side balconies in the Capstone Building hall, and the fact that the side walls are hard, flat surfaces, we achieved the best coverage and audio quality by flying the system almost as a centre cluster.'
The hall's roof space, meanwhile, has an 'industrial' appearance, silver light fittings contrasting with a black-painted ceiling and grid. The compact dimensions of the Alcons system meant that it blends well into the overall aesthetic and also doesn't intrude on sight lines for those at the back of the raked seating.
'The coverage of the system is exceptionally even,' Rees adds. 'The hall is roughly square, about 12m x 12m, with the balconies intruding from the sides, and we didn't have a lot of height to work with. But we achieved great coverage and, despite the compact size of the arrays, the audio quality is excellent. It can also handle live music at a surprising level. After using the Alcons system at St Mary Bredin church in Canterbury, we knew what it was capable of and were very keen to use it again.
'Alcons Audio UK set the system up and the University staff were surprised at the volume levels it can achieve. Given the range of material it will be called on to reproduce - from spoken word to classical music, up to full-on rock'n'roll - they are very pleased with its versatility.'
More: www.alconsaudio.com