The world's first installation of Martin Audio's new Wavefront Precision Compact (WPC) and Mini optimised arrays with iKon amplifiers has been completed at the First Pentecostal Church in North Little Rock, Arkansas.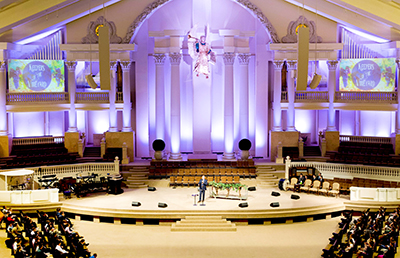 'Martin Audio had just come out with the new WPC system and it was a perfect choice for this installation because it offered great Martin Audio sonic performance and optimised coverage and control for the price,' says Project Manager, Brandon Byrd.
Needing to replace an old, worn-out PA that didn't cover the room or provide the audio quality and needed, the church required a solution for an acoustically challenging space with large domed ceilings, a balcony, stained glass windows and hard marble surfaces.
'They didn't want to add acoustical treatments,' continues Brandon, 'but with the WPC system you can get additional resolution and coverage by adding more boxes with a channel dedicated to a single amp,' Byrd says. 'We went for the highest resolution, which allowed the system to create interference that significantly reduces the audio level hitting the hard surfaces we wanted to avoid. That, plus the coverage, is consistent throughout the space.
'The actual system includes 16 WPC a side for the main array with a side fill array of six WPM a side covering the extreme outside corners because they can really pack people into this place, especially for special events. The stage was modified to accommodate the five CSX218 subs per side that are recessed into the front with everything powered by the iKon amps. All the hangs are covered with white acoustical fabric to be more visually integrated.'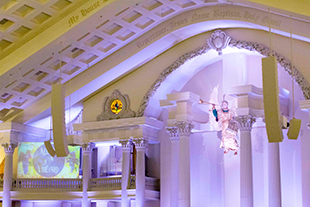 'We were looking for speech intelligibility first and foremost,' First Pentecostal Technical Manager Nick McKinnon explains. 'Conveying the message whether it was song or speech is our absolute priority. Keeping the vocals over the music and the preacher's sermon clear and present in what is a very reverberant space is critically important for us.
'So, the optimisation capability of Martin Audio WPC was very attractive on paper and if it did what it said it was going to do that was the choice we had to make. Getting the sound off where it didn't need to be and focused on the audience where it belonged was crucial for us, and it did exactly that.'
'When it comes to music reproduction, WPC is like sitting in front of a great set of studio monitors,' he continues. 'We have a Midas Pro X console and we've gone from making 9dB changes in the EQ to 2dB and 3dB changes and really noticing the difference. The changes are very audible – we're even hearing the compressors now if there's too much reduction.
'The coverage is truly exceptional. We have seating in alcoves and they were just getting reflected sound before. Now with the WPMs on the side, every seat in the house has even coverage, top to bottom, side to side.'
'In terms of the subs, we brought the Pastor in to hear some symphonic music and he mentioned that when you close your eyes, it's more of an experience than just listening when you can hear the full spectrum of sound. And the overall reaction to the system has been overwhelmingly positive. The only thing the staff asked is why we didn't do it sooner.'
The installation is completed by new LE100 monitors. 'We've also solved problems onstage with the new monitors,' McKinnin reports. 'They combine compact, low-profile enclosures that give us expanded individual coverage for performers and speakers and they sound really good.'
More: www.martin-audio.com