Midlands-based conference and technical event production company Novum Audio Visual has invested in a significant stock of Outline PA equipment along with flying hardware, flightcases and amplifiers.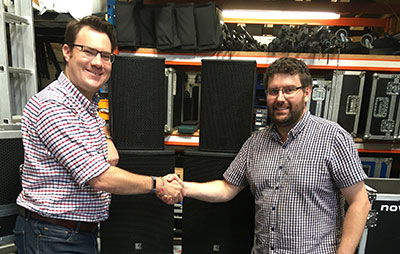 'In this current tranche of investment, we had two issues to resolve,' explains Novum Commercial Director, Tim Jacques. 'We were looking to overhaul our point-source stock, and we wanted to set a foundation and direction for our next investment into a large-format solution.
'Much of our previous audio stock was more than years old and over the years we had gradually built up a wide range of different speaker types and brands to respond to the varying needs of our clients,' he continues. 'While our customers have always been delighted with our service, system design and setup was getting ever more complicated with five different speaker brands in various formats and three different brands of amplifiers. We decided that it was time to streamline the stock and find a speaker brand that both met our performance criteria and helped reduce weight.'
'Our ideal solution was a box that was sufficiently small and aesthetically pleasing for use at our corporate events, yet powerful enough to handle the demands we have for public address and stage performance. We were also keen to reduce the total number of speakers on inventory and keep a smaller but busier stock.'
To resolve the situation, Jacques organised a blind shoot-out between seven different speaker manufacturers using an existing speaker system as a reference point.
'Our technicians all selected option D from the 12-inch speaker range – which turned out to be the Outline Vegas 12 CX coaxial loudspeaker – and option B from the 8-inch range – the Vegas 8CX – without having the first idea that they were the Outline offerings,' Jacques reports. 'The other speaker brands varied in their final scores, but the team was unanimous on the ranking for Outline – it was the number one choice for all of our technicians'
Two characteristics particularly impressed the team – regardless of whether the speakers were being driven hard or run very quietly, the tonality and balance remained consistent, and the dynamic range of the speakers was such that several technicians heard new detail in music tracks that they were very familiar with.
'That blew them away, I can tell you,' Jacques says.
Another consideration was performance-to-weight ratio: 'Outline outshone all of the other brands,' Jacues says. 'The power/quality/weight ratio of the Outline systems means that we can deploy a smaller number of speakers in varying configurations for the same, if not better results for small to medium-sized PA applications, and they work equally well as stage monitors and/or front fill alongside our large-format systems for bigger events. Investing in an Outline solution has thus enabled us to streamline our stock and thanks to fewer elements that will be working harder, we'll be able to realise a much faster return on investment and save on storage and maintenance costs.
'On a personal note, I'd like to thank James Lawford of CUK, because without him, none of this would have happened. We've known James a long time and always trusted his judgement, so when he told me that I really needed to hear the Outline speakers before I made any decisions, I was happy to take him at his word and arrange for a demo. On the strength of what we heard, we invited him back for the shoot-out a week later.
'James was also a great help when it came to sourcing flying hardware. Whereas the other manufacturers who didn't offer bespoke flying gear just referred us to a third party, James did it all for us. Not only did it help us out enormously, but thanks to his efforts, there is now an off-the-shelf flying yoke for Outline speakers.
'We're delighted with the quality and performance of the Outline audio equipment and we know we can rely on James and CUK when it comes to service, so I'm confident that they will be a key partner for us in any future plans for our continued expansion.'