A chart success in 20 countries that ranked top on Spotify Global and attracted 270m views in just four weeks on YouTube, infectious, 'Mi Gente' (My People) is Latin-tinged pop from French DJ Willy William and Colombian singer J Balvin. The song was mixed by French Canadian songwriter/producer/mixer, Philippe 'Phil' Greiss in Stockholm, using his newly configured in-the-box set-up.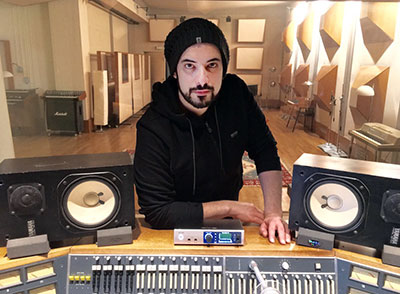 Associated with a number of Quebec-based artists looking to the French market, Greiss has been in-the-box for the past three years – in addition to working remotely in Paris, Los Angeles and latterly Stockholm, he maintains a professional hardware-based studio in Montreal but says that he increasing depends on a remote rig centred on an RME ADI-2 Pro AD/DA converter:
'Songwriting is such a collaborative process that you need to be able to work with people in person, wherever they are,' he says. 'I really need a high-quality converter wherever I go and, in this regard, the ADI-2 Pro has truly been a game-changer.'
RME's ADI-2 Pro reference converter packs several of its German manufacturer's best-in-class feature sets into a powerful, yet mobile production tool. Supporting sample rates of up to 768kHz, full parametric EQ and dynamics, rock-solid clocking and an audiophile grade headphone amplifier, the ADI-2 Pro is road-ready.
Greiss is drawn to the pop music genre, and has left his mark on many international hits such as Maitre Gims's 'Sapés Comme Jamais' (song of the year at the French Victoires de la Musique), and 'Loin (Pilule Violette)', which has since been certified Gold in Germany and topped the pop charts in Belgium. 'I love the sound of a new pop record and always pay close attention to the sound of the top 40,' he says. 'I guess I am infusing some of these qualities and sensibilities into the work that I do for myself and others.'
While his permanent studio in Montreal features 32 outputs going through an analogue summing system paired with a high-end Focal monitoring, his remote rig consists solely of the RME ADI-2 Pro interface, an RME Babyface Pro, which he uses to track vocals when on the road, a pair of Focal Solo6 monitors, two pairs of reference headphones and an ADK laptop loaded with Pro Tools, Sonar and Ableton Live. 'The ADI-2 Pro helps me get the best sound out of any session, and it is great to have laser-accurate, reference quality audio wherever I am working in the world,' he reports.
This portability has enabled Greiss to move closer to the market where he is most active. 'I was drawn to Europe as a result of all the records I have been working on. Willy William and I have known each other forever and always wanted to work more together, and we finally used this project to this a reality,' he says. 'I ended up mixing 'Mi Gente' and never could have anticipated its global appeal and international success.'
Greiss says that his ADI-2 Pro allows him to toggle between songwriting, producing and mixing. 'Having a tool like the ADI-2 Pro is very important because songwriting is such a collaborative process. You need to be able to work whether people are coming to you or if you are going to them,' he explains. 'I really need a high-quality converter wherever I go, and the ADI-2 Pro helps me get the best possible audio out of any session.'
This not only provides reference audio, but ensures the sonic integrity is where it needs to be: 'It is a great comfort knowing that I will have a laser-precise rendition of the audio I am working with, no matter where I am in the world or who I am working with.'
One of Greiss' favourite aspects of the ADI-2 Pro is its parametric EQ, which he routinely uses to correct acoustic anomalies that can occur while working in a variety of rooms. This powerful tool enabled him to become more comfortable while mixing and monitoring, with all the necessary controls at his fingertips.
'I mixed 'Mi Gente' in Paris, in a room with some acoustic challenges but, with the ADI-2 Pro, I was able to correct the output and correct a couple of room modes,' he recalls. 'I spent probably ten minutes with the tone sweep, revealing unwanted resonances, and I just adjusted them.'
'The preamps on the UCX and Babyface Pro are very clean and transparent, which is exactly what I need,' he adds. 'It allows me to colour the source after the recording if needed, with the plethora of amazing emulations and processors that exist today.'
The monitoring too is important: 'I am spoiled with the whole experience of listening to audio through the ADI-2 Pro,' he admits. 'Everything I listen to is right through the box – I am getting the benefit of world-class headphone amplification coupled with great conversion and it makes for an amazing listening experience.
'I am working with great conversion from RME, and the ADI-2 Pro has really taken things to another level. With the ADI-2 Pro, I am completely at ease in the box and can work with greater speed and efficiency. It is a great time to be in the box; it's going to be difficult to go back.'
More: www.rme-audio.com