Purpose-built to stage concerts and conferences, exhibitions and symposia, the Czech city of Zlin has recently opened a new Congress Center. Inside, its main hall has been provided with a sound system capable of supporting all its roles.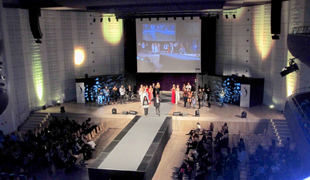 The contract to design and install the audio systems at the Congress Center Zlin fell to Inton SRO, following a competitive round of bids. The company had little hesitation in recommending a Martin Audio line array solution for the 837-seat Great Hall, knowing that its versatility would make it suitable for all purposes. Here it would work with Lectrosonic´s Aspen processing, Powersoft KDSP-series amplifiers and an Allen & Heath iLive112 console.
Inton's designers knew the resulting system would also maintain its consistency whether the hall was configured for concerts (full capacity), congress (768 seats) or in ballroom layout (for 400).
Two separate Martin Audio line array systems were detailed, with eight W8LMI and a WMX sub (biamped) installed each side of the room as a main PA system, and a further eight LE1200s provided for stage monitoring. Forming a second zone is a Martin Audio OmniLine Micro Line Array system, eight modules per side – reinforced by ceiling speakers for conference purposes.
'We chose Martin Audio for two reasons,' says Said Inton SRO MD, Jiri Strupl. 'First to meet Eva Jiricna's design requirements and, second, to offer a different approach when used in conference mode – normally, concealed ceiling speakers would be used, but in view of the inherently long reverberation time within the building the use of delayed OmniLines would ensure intelligibility right to the back rows of the balcony.'
Designed by renowned architect Eva Jiricna and with an overall construction budget of CZK 650m (£22.75m).
More: www.martin-audio.com