US loudspeaker systems specialist Renkus-Heinz has appointed Swedish-born Håkan Sjöö as its European Sales Manager.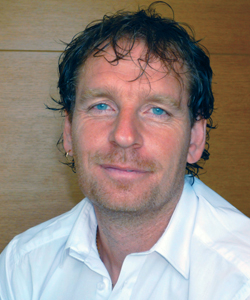 Sjöö has served as the regional manager for Renkus-Heinz in India for the past two years, building an extensive dealer network, assising with the progress of several major sales and installations.

After spending three years in New Delhi with his wife and two sons, the family moved back to their home on the outskirts of Stockholm this summer. In addition to working in the audio industry in various capacities since 1996, Sjöö holds a diploma from Bergh's School of Communication, which supplements his extensive experience from working in technical and installation based product sales.
'We are absolutely delighted that Håkan has made the choice to stay with Renkus-Heinz and take on the responsibility of managing our distribution network in Europe,' says International Sales VP, Karl Brunvoll.
'I believe that professional working methods, clear concepts and shared values will be tomorrow's success factors,' Sjöö responds. 'Act locally - think globally.'
Sjöö plans to tour the European distributor network and attending the 2011 Plasa show in London, where he can be found on the Polar Audio stand.
More: www.renkus-heinz.com