Naostage has appointed Alexis Reymond as its new Sales Manager, responsible for developing the company's commercial strategy and overseeing its development, both domestically and internationally.
Reymond will initially focus on building relationships with major industry players in the EMEA region, and showcasing the Naostage product – the world's first automatic, beaconless 3D tracking solution.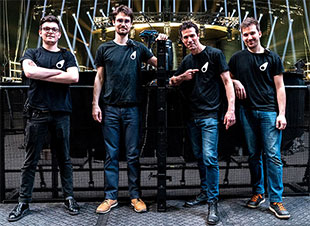 Previously, Reymond has worked as a freelance audio engineer, electro-acoustic consultant, sound designer and music producer for more than 20 years, most recently in a sales engineering capacity with fellow Nantes-based company Arbane Groupe (APG/Active Audio). His other experience includes spells with event specialists Videlio and Magnum, where he worked as a sound engineer for 17 years, and Disneyland Paris, where he served as a freelance A/V technician. In addition to his hands-on industry experience, Reymond holds multiple academic and professional qualifications, including certificates in sound and A/V engineering from INA SUP (the Institut national de l'audiovisuel college) in Paris.
'My ambition is for Naostage to become, over the next three years, a major worldwide provider of automated tracking solutions by establishing ourselves as the market leader in France and establishing a distribution network across Europe, the Middle East and Asia,' he says.
He explains that he sees live shows, corporate events, performing artists, and attraction venues as priority markets for Naostage. 'As a young, innovative company with a true stand-out product, the growth potential of Naostage is huge. I'm really excited to be part of this project and look forward to sharing the opportunities provided by our solution with the wider industry,' he adds.
At Naostage, Reymond joins a team that includes the company's founder and CEO, Paul Cales, as well as partners Olivier Le Doeuff (CTO) and Nathan Van De Hel (COO).
'To have attracted a sales manager with Alexis' expertise, experience and standing in the industry is a real vote of confidence in Naostage and our mission to harness the power of technology to elevate the live experience,' comments Cales. 'We are delighted he has chosen to bring his skills to Naostage, where he will be instrumental in helping us realise the potential of our unique technology.'
More: www.naostage.com