Andreas Reimer has been appointed as Product Manager for the Speaker Trade Group and will be responsible for the SE Audiotechnik, Vue Audiotechnik and MIVOC brands.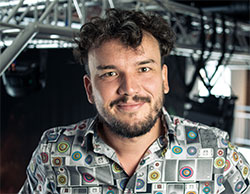 Over the past 11 years, Reimer – an industrial engineer and industry expert by trade – has held positions with numerous well-known manufacturers of professional audio products and enjoys an excellent reputation as an efficient achiever with strong implementation skills.
Within the Speaker Trade Group, he will be responsible for the planning, coordination, marketing and control of the professional and home audio products manufactured in the company's own factory, from new product launches to the further development of existing lines and technical solutions.
'For me, good sound means for the right notes to reach every place, regardless of whether it's a large project or a small construction site, a fixed installation or a mobile application,' he says. 'It's particularly satisfying when I achieve this as unobtrusively and discreetly as possible. I joined SE Audiotechnik because our brands and products have a lot of potential, there's a great team on site and the right design scope for me and my ideas.'
'We are very proud to have added Mr Reimer to our team and thus, we move one step further in our strategy to establish Vue, SE Audiotechnik and Mivoc as globally recognised brands in the audio sector,' adds Speaker Trade MD, Markus Schmittinger.
More: www.se-audiotechnik.de