Dan Zimbelman has joined PMC as Senior Export Business Development Manager to 'use his extensive industry experience and contacts to nurture and developing relationships with key clients, provide specialist advice on all aspects of studio monitoring and ensuring that customers choose the right PMC products for their needs.'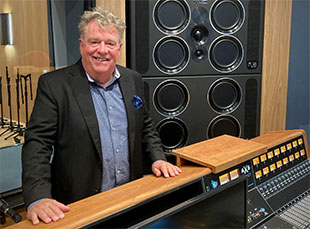 Based in the US, Zimbelman's career spans nearly 50 years, and includes key positions within the professional sound industry as well as being a recording engineer and recording studio owner. During the mid-1980s he spent three years helping Rupert Neve launch the Focusrite brand in the US, before moving to console manufacturer API as Director of Sales for nearly 30 years.
'PMC is undergoing a period of incredible growth globally as our extensive range of high-quality monitoring products are having a significant impact on the development of new formats such as Dolby Atmos music mixing,' says PMC CEO, Jeff Willcocks. 'Throughout his career, Dan has worked in the upper echelons of the professional studio world and having someone of his calibre on the team at this critical time is an enormous benefit. He understands our industry inside out and shares our philosophy that quality and customer service should always be at the top of the agenda.'
'After a successful career as the Director of Sales for API, the best analogue recording console brand on the planet, having the chance to handle International Business Development for the most impressive brand of studio monitors in the world was an opportunity that I just couldn't pass up,' Zimbelman says. 'I am looking forward to building on the amazing success that PMC has achieved. It is going to be an exciting challenge to use my experience and the strong relationships I have developed over many years to grow the influence of PMC worldwide.'
He adds that he has long been a fan of the PMC sound, and is committed to building relationships with producers, artists and studio owners that align with his own philosophy of putting the customer first.
'Introducing the smooth, transparent clarity and power of the PMC sound – both in stereo and immersive formats – to the professional audio community worldwide is so complimentary to my work with API,' he says. 'As soon as the Covid Pandemic is past, I will be visiting our customers and partners around the world, which is something I am very excited about.'
More: www.pmc-speakers.com