Riedel Communications has promoted Vincent Lambert to General Manager for Riedel Japan and South Korea. Moving into his new role after serving for four years as Riedel's head of global system consulting, Lambert reports to APAC Director Simon Roehrs.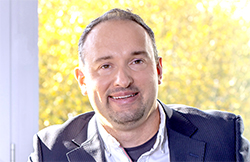 As Head of Global System Consulting, Lambert grew a ten-strong team of customer service engineers into 33 technical pre-sales officers focused on strategic, structured, high-performing commercial support. Prior to that, he served as System Consulting Manager for Riedel APAC in Japan. Other previous positions include Manager Of Operations & Technology at Walt Disney Television Japan, Sales & Product Management functions at FOR-A in Japan, as well as several broadcast engineering roles in London.
Lambert attended Columbia Business School in New York City, London Business School in the UK, and Hong Kong University, where he received an executive MBA through a joint global programme. He also holds a bachelor's degree with honours in broadcast engineering from John Moores University in Liverpool, UK.
'Vincent is the ideal choice to head Riedel Japan,' Roehrs says. 'He brings a powerful mix of broadcast engineering, sales engineering support, and business management to this important position, as well as in-depth knowledge of the Riedel product family and our customers' requirements. He and his five-member team are perfectly positioned to propel Riedel into the next generation of growth in the vital APAC region.'
Lambert takes on a Tokyo-based operation that has grown significantly since opening five years ago. In 2018, Riedel Japan moved to a new headquarters located between Tokyo's Shinjuku and Shibuya wards near the new National Stadium. The facility, designed to foster collaboration and connection with APAC clients, is close to Riedel's long-term local partner Otaritec.
'Since opening our Tokyo headquarters in 2015, we have doubled our size and presence in the world's largest metropolitan economy,' says Riedel CSO, Martin Berger. 'Our current office reflects our commitment to further improving communication and customer service, support, and relationships with APAC partners and customers. The investment has really paid off – We're able to serve local customers even better than before, especially at large, high-profile events in Japan such as the 2019 Rugby World Cup and next year's Summer Games.'
More: www.riedel.net