Graham Hendry has joined Renkus-Heinz in the position of Vice President of Strategic Development, 'to develop and execute the creative vision in both product and market development'.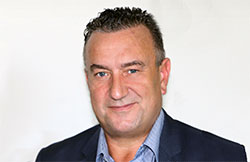 Hendry's professional background encompasses engineering, product management and customer facing roles, a combination of skills that has allowed him to take on the responsibility for both developing product lines and bringing them to market.
'My entire career has been focused on premium audio solutions, mainly in the loudspeaker world,' Hendry says. 'Because of that, joining Renkus-Heinz is a a natural progression. The company is a true technology leader in the space. That said, the development of my career has led me to discover that I very much enjoy dealing with people, and that is also a big part of the draw of Renkus-Heinz. I believe the team is among the best when it comes to putting the customer first. I am very much looking forward to be a pivotal part of that.'
The majority of Hendry's career was spent with Tannoy and the TC Group, where he joined the R&D engineering team in 1990. After a stint in commercial integration from 1998 to 2002, he returned to Tannoy – and the brand's ownership teams at TC Group International and later, Music Group – in roles including Engineering Director, Business Development Director, VP of Solutions and Brand Leader.
'Graham brings a wealth of experience and he will play a critical role in both our strategy development and the execution of that strategy,' says Renkus-Heinz President, Matt Czyzewski. 'He will be heavily involved in product development and market development. We're excited to have him onboard.'
More: www.renkus-heinz.com