Paolo Calza has joined the Outline team in the role of Pro Applications Engineer and Outline Array Trainer, supporting clients and rental companies worldwide.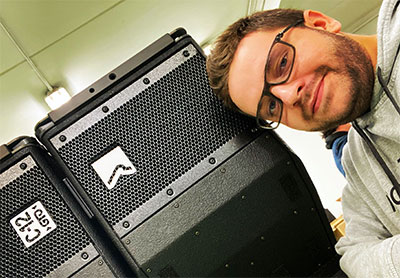 Born in the Marches region of Italy, the 32-year-old comes from a family of musicians, and attended music lessons from a very early age. At 16 he began working with rental companies throughout Italy, subsequentlygraduating from Rome's Saint Louis College of Music as a sound engineer and Midi programmer and later from the University of Ferrara as a technician specialised in acoustics.
He has collaborated with numerous companies in pro audio as a technical consultant and, over the past ten years, has also concentrated on the acoustic design of loudspeaker systems. He has considerable experience in the live music field, working regularly on large events and national and international festivals.
As Pro Applications Engineer and Outline Array Trainer, Calza is also responsible for professional installations and client support in the field.
'I consider every new venture as a steep path to be climbed to achieve new goals,' he says. 'I hope to be able to offer my support and experience to Outline, its distributors and its clients worldwide, and manage to communicate them with the same passion that I put into my work. Thanks to Outline and it's almost 50 years' of know-how, it'll be easier to reach the peak, and I can't wait to see the view.'
More: http://outline.it