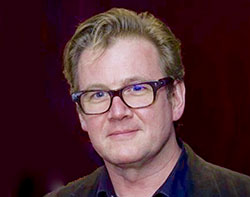 Greg Clarke has joined EM Acoustics, where will be responsible for system design and client liaison in tandem with his established career as a sound designer. Clarke regularly designs Broadway and West End shows in addition to his work with the Royal Shakespeare Company, the National Theatre and many others.
'I've been an advocate of EM Acoustics for years. I believe fundamentally in the products, attitude and philosophy,' Clarke says. 'As we continue to expand, I'm thrilled to put my relationship with the company on a formal basis and share my experience of this exceptional equipment. I'm also really looking forward to getting to know EM's broad and diverse customer base.'
'Having Greg onboard is a huge asset for us,' says EM Acoustics Operations Director, Mike Wheeler. 'As a both a highly respected sound designer and a key user of our systems in the theatre market, it's an incalculable benefit for us to be able to make his expertise available to our customers.
'In addition to offering help and advice on system design, Greg will also be taking on the role of client liaison and after-sales service. This will be extremely welcome for all concerned, firstly because he already has excellent relationships with most of the leading rental companies as well as a wide range of receiving houses, and secondly because it will take some of the pressure off the existing team and allow us more time to focus on other areas of the business, such as product development. I'm very proud that Greg is now a proper part of the team – as far as I'm concerned, everybody wins.'
More: www.emacoustics.co.uk