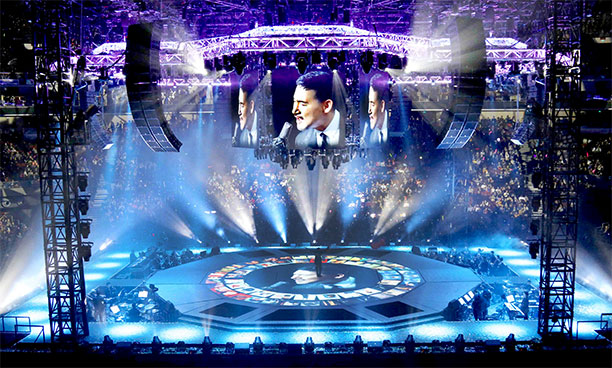 Sometimes he is the God of Song, sometimes one of the Four Heavenly Kings, and sometimes Jacky Cheung – occasionally he is Hock Yao. In whatever guise, he is currently parading his A Classic Tour through 21 venues across Mainland China, Hong Kong, Singapore and Taiwan.
Performing in-the-round at both indoor and outdoor venues, his shows are an ambitious production combining elements of music concert, theatre and circus. The requirements of the supporting sound system are considerable, presenting a serious challenge to rental companies Haona, who supplied the system for the China dates, UnUsUal Limited in Singapore, and Taiwan's Winly Production Services, who worked alongside L-Acoustics Chinese distributor, Rightway Audio Consultants to deliver the system.
Everything about the show's production values are in keeping with his standing among Chinese (he was born in Hong Kong) singers, from the four-sided stage containing a central, sectional decagon – which transforms with every song to resemble a three-tiered cake, a circular staircase, a rotating compass or a walled fortress – to the audio, video and lighting systems suspended above it. For the outdoor venues and select indoor venues where weight loadings are an issue, the system is flown on a complex truss system, ground supported by four towers, one at each corner of the stage.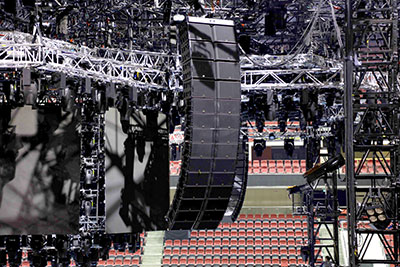 'We based the audio design on the predictions we had made using L-Acoustics' Soundvision 3D acoustic simulation programme,' explains Daniel Kwan, who served as audio designer and FOH engineer for the tour. 'Soundvision is an incredibly useful tool, as it meant we could easily predict how the system would react when we moved from venue to venue. This was particularly useful when selecting the position and model of the speakers and meant that we could always ensure the entire audience area was fully covered.'
The show design included moving elements for both lighting and staging, which had an influence on the number of loudspeaker elements used, and their position. 'Due to the complex stage design, we decided to use six arrays of K2,' Kwan says. In the case of the ground -up production, the weight of the speakers is a huge consideration. K2, being powerful and lightweight and with its stable horizontal polar response of 110°, is the perfect choice to deliver great impact and coverage to every single member of the audience.'
The overall system comprises 48 K1, 120 K2, eight Kara, 24 KS28 and 24 SB28 subs, with 24 X15 HiQ and 24 115XT HiQ providing stage monitoring, all driven by a combination of 96 LA8 and 12 LA12X amplifiers.
'Our standard system for the Chinese leg of the tour comprised six hangs of 14 K2 suspended from the main truss, again with 110° horizontal dispersion to cover the venue. However, the tour went to some vast indoor venues and outdoor stadiums where we added four K1 cabinets on the top of the K2 hangs to reach the far rear area. For outdoor stadiums, we again used K1 to cover the upper area auditorium, with K2 covering the bottom level. Using Soundvision makes it much easier to work out an accurate quantity of speakers for each location we visited and the angles we needed to set.'
Working with monitor engineer Mike Huang, Kwan ensured that feedback issues were kept to a minimum and that the system was properly balanced. 'By using this system, as well as ensuring great audio quality, both load in and out were very fast and convenient,' Kwan says. 'The success of the tour is in no small part due to our L-Acoustics system. I am impressed with its sonic quality and predictability. It gives me full confidence that it will provide the best solution, as always.'